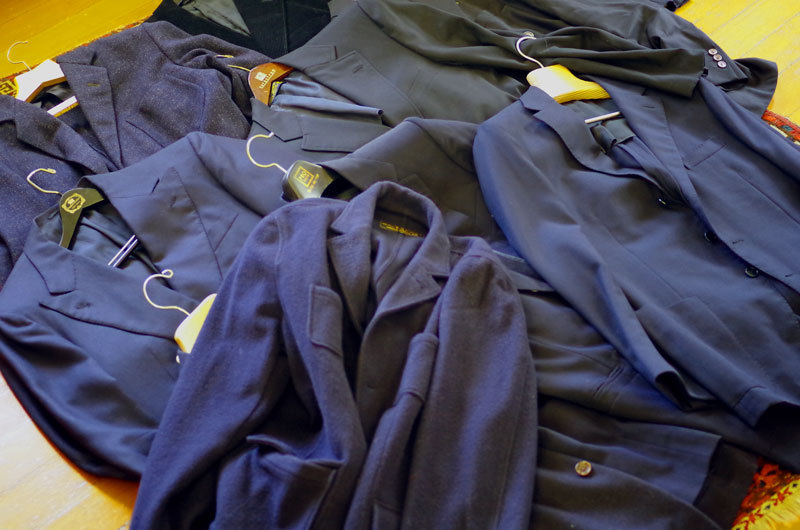 This morning, I'm spending a bit of time switching cold weather clothes for warm weather clothes. It's a time of reckoning. And I reckon I've got a lot of blue blazers.
To my credit, I've only purchased one of them new, and most came from thrift shops. And what they say about blazers, that they're the most versatile garment you can own, is true. But still… ten?
Here's the rundown:
Classic Brooks Brothers. This is the blazer you think of when you think of a blazer. Brass buttons, the whole nine. Bought it at the thrift shop, and I rarely wear it… I'm not a brass button guy.
Classic Brooks Brothers (White Buttons). Another thrift store find – but I replaced the brass buttons with mother-of-pearl.
Kiton Double-Breasted. This one's all cashmere. I bought it at a thrift store, and I think it may at one time have been the jacket of a suit. Since it's so soft and unconstructed, and Italianate in style, it works great as a blazer. Replaced the buttons with light horn ones.
Chester Barrie Double-Breasted. I bought this one for $75 or something on eBay a week before I found the Kiton at the thrift. Put smoke mother-of-pearl buttons on it. It's a little lighter than the Kiton, so it gets more warm-weather wear.
Polo Corduroy. This one gets out a lot when it's cooler – and it was $30 or so on eBay.
Brooks Brothers Unconstructed Flannel. This one I found at a thrift store in Orange County. It fit perfectly off the rack, and one of the best-dressed guys I know, Elvis Mitchell, once told me it was gorgeous. Has brown horn buttons. Great for knocking around in cool weather.
Cantarelli Summer-Weight . This one's very blogger approved – patch pockets all around, partial lining, open-weave wool. Got it from eBay for $50 or so. Couldn't resist.
Custom Fresco Blazer. This was my first ever bespoke garment, from High Society Tailor in Los Angeles. It's something prohibitively expensive off the rack that, living in LA, I wear all the time.
Vintage Flecked Blazer. This one's from the late 50s, maybe the early 60s. I bought it at a thrift many years ago, and it's a great going-out coat. Add a knit tie, a button-down shirt and grey flannels and you look like the big man on campus.
Freeman's Sporting Club Shacket. Is this a blazer? Or a shirt? Or a shirt-jacket? It's solid navy, so I'm calling it a blazer. A perfect thing to throw in the bag for a casual trip. Warm, fits a sweater underneath, looks great with jeans and chinos. Another $50-ish eBay purchase.
So what does it all mean? Am I a crazy person? Or do I just have the right tool for every job? Maybe the latter. Maybe the former.
(Edit: just took out my summer clothes. Blue Polo linen. That's eleven.)
---