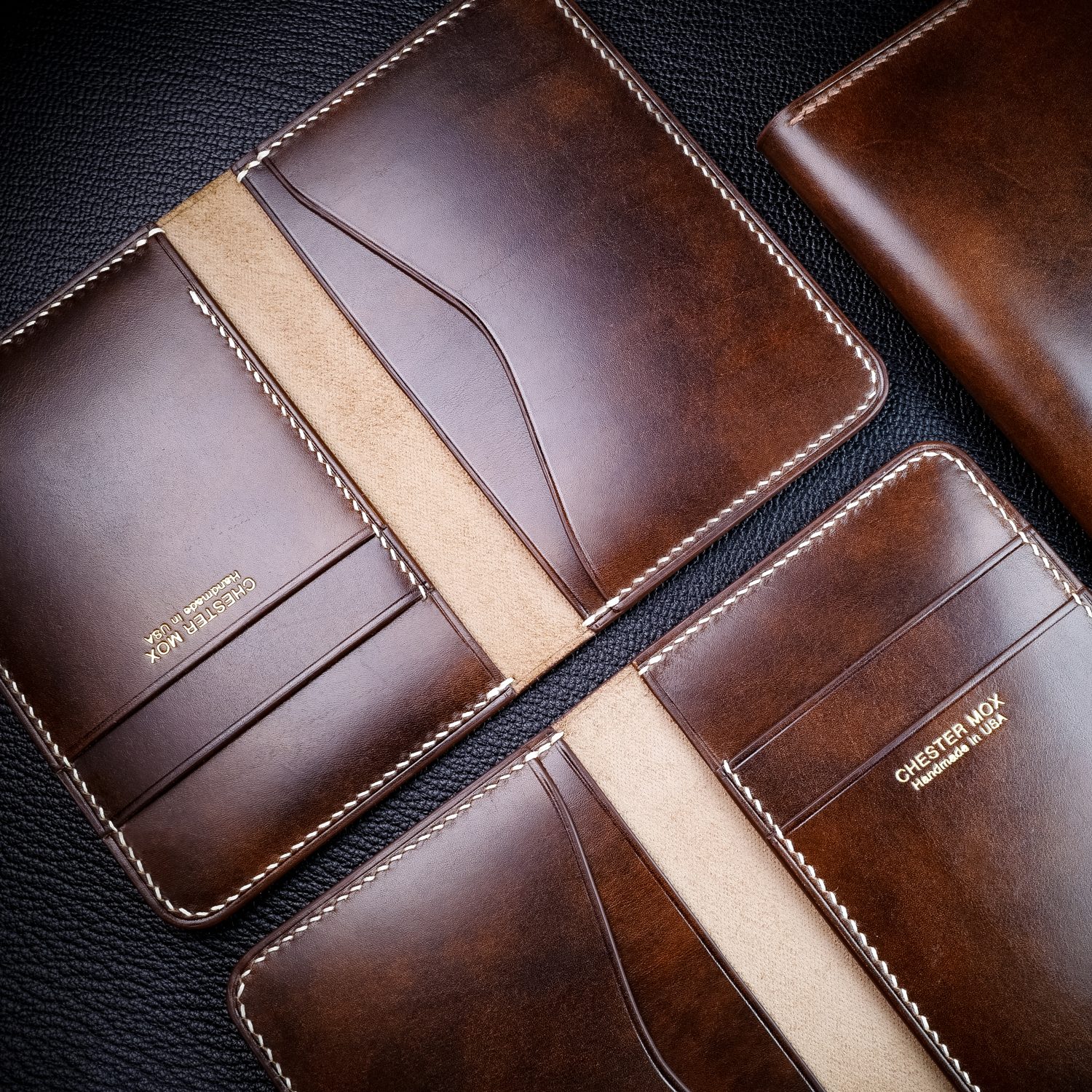 Any time I'm shopping for a leather accessory nowadays, I first turn to Chester Mox. The Los Angeles-based company is run by a husband-and-wife team — Bellanie and Brandon Salcedo — who have over a decade of experience in the leather goods trade. Many years ago, Bellanie graduated from an apprenticeship under a former Hermes leatherworker (who herself runs another notable high-end leather goods company). Since then, her work has been as good as anything I've seen come out of Japan or Western Europe. The only difference is that her prices are much, much lower.
For the next week, their prices are a little lower still. Chester Mox is running a summer sale where you can take 25% off almost anything with the checkout code SUMMER (the promotion excludes bespoke projects and is not retroactive). The sale runs until this Wednesday, August 14th.
There are lots of things that set Chester Mox apart from other companies. Since everything is handmade and only produced when an order has been placed, it's easy to get a high level of customization. You can choose your leathers and threads, which includes colors and material type (shell cordovan, alligator, French calf, etc.). You can also select your pocket style on certain wallet models, as well as get a stamped monogram on almost any leather good.
Most of all, I like them for their sewing. Most leather goods, including top-tier ones from luxury brands, are machine sewn. Most luxury companies make their profits not from their most expensive offerings — such as suits and leather jackets — but more affordable accessories. It's things such as bags, belts, wallets, sunglasses, and perfumes that have the highest mark-ups, and allow a luxury company to make up for their loss leaders. The reason why they make $50,000 vicuna coats isn't that they're terribly profitable, but because they give the lower end of the line a halo and allow consumers to dream.
Since leather accessories need to have large profit margins, that means they also have to be machine-made (the one exception is Hermes, which is the largest luxury company that still handmakes almost all their items). In the second photo above, you can see the edge of my Chester Mox wallet sitting alongside an RRL eyewear case. You can tell the RRL case is machine-sewn because the stitching has visible holes and the seam follows a simple dash pattern, like this: – – – -.
The Chester Mox case, on the other hand, is sewn using a technique known as saddle stitching, That's when two needles pass through the same hole, either with an awl first piercing that hole and guiding a needle through or with the holes punched by hand using a pricking iron. The technique is laborious, but it results in a stronger seam. Whereas machine-sewn seams can unravel if one stitch breaks, saddle-sewn seams have to be picked apart using a special tool. But mostly, I like saddle stitching for its visual effect. The seam ends up looking a bit tighter and neater, and the sewing follows a slightly angular pattern, like this: / / / /.
From Hermes, comparable leather products cost in the thousands. There are slightly more affordable makers, such as Ortus in Japan and Jean Rousseau in France, but their products are still extraordinarily expensive. I was once quoted $3,500 for a handsewn alligator wallet from one of these companies. Chester Mox offers them for $850.
Of course, there are also much more affordable products. I use their Barenia card case ($110), although it's also offered in a more affordable Italian leather ($60). They also have fully handsewn slim wallets ($85), flapped wallets ($75), travel wallets ($215), and belts ($350). I like Chester Mox because it's one of the few companies where you can still get a best-in-class item at reasonable prices. And while "cut out of the middleman" has been mostly reduced to a marketing gimmick, I can help but think they've been able to keep prices lower than their competitors because they only sell directly to customers.
The challenge is sifting through the large number of options, so let me give you my biases. I think the dogleg card cases are especially good in conjunction with a money clip. The compact bi-fold is a little better if you want to store your cards and a small amount of cash in one place. Their soft Barenia leather patinas easily with age (it's the same material Louis Vuitton uses for their bag handles). Their mottled museum calf is the same as what some high-end shoemakers use for their footwear, although I think the material looks better in accessories. And while it's expensive, their alligator leathers are tremendous. Chester Mox is one of the few companies that will make small leather goods from the belly of the hide, which has more cleanly defined scales. Lower-end alligator leathers don't compare very well.
Recently, the company added Horween's hatch grain to their line. The leather is made to look like the centuries-old Russian reindeer leather once found in a sunken brigantine located in the Plymouth Sound (Horween's version doesn't come with the same provenance, but it's very handsome and, in any case, much more durable). They also have a new engraving service for their keyrings, which you can see in the Instagram video below. Since everything is made to order, you can also swap out certain leathers if you don't see what you want offered. Just contact them directly if you have a more specific design in mind.
---