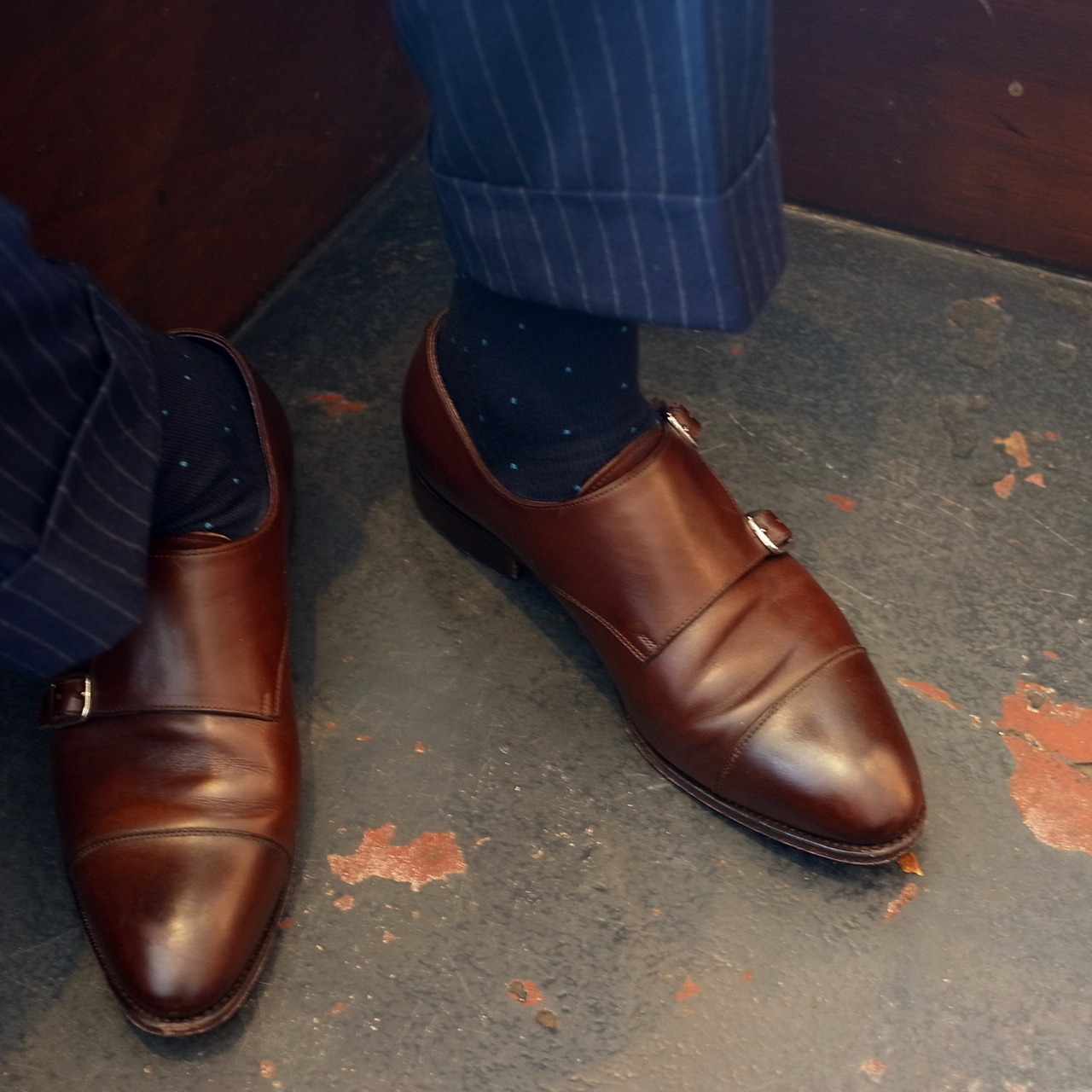 There's an old piece of wisdom that says men should match their socks to their trousers. Doing so elongates the leg line, which in turn supposedly makes the man look taller. I've never been quite sure of this rule (or the logic). It works fine for navy or charcoal trousers, but matching brown socks to similarly colored pants and shoes seems off to me. I also don't care for light colored socks, so wheat and mid-grey trousers need a different colored hose. 
In the end, I've found that navy socks go with everything. It's richer than black and complements any color next to it. Thus, most of my socks are a solid navy, with charcoal a close second. I also have a few pairs in odd colors such as dark bottle green and aubergine, which I wear whenever I want a bit of irreverence. Those are never worn to match trousers, of course, though sometimes they complement a secondary color in my tie. 
It can be a bit boring to only have solid colored socks, however, so you can mix in some conservative patterns. This takes a bit more focus in the morning, but can add real character to your ensemble. Time-honored combinations include a two-toned houndstooth with glen plaid flannels, fine herringbone with a chalk striped suiting, or well spaced pin-dot hose with windowpaned wools. The key here is to find a pattern that both complements and contrasts your trousers. If you stick to neutral colors and conservative, traditional patterns, this should be easy. 
Marcoliani and Bresciani makes some of the best patterned socks out there. Marcoliani can be found through Kabbaz & Kelly, Howard Yount, and O'Connell's. If you're in the Bay Area, you can also find them at The Hound Clothiers. Bresciani can be bought through A Suitable Wardrobe, Berg & Berg, and Mr. Porter. Both of these brands are expensive, but the construction is top-notch and the patterns are tasteful.
For more affordable options, keep an eye out for Pantherella socks on Sierra Trading Post. They have more synthetic fibers in their composition, which means they're a bit less breathable and durable, but their patterns are equally tasteful and they can be had for as little as $5 a pair (just wait for the heavy markdowns). Uniqlo also has these dotted socks which you can buy through Suddenlee, but they're cotton and not over-the-calf. I recommend waiting for the Pantherella sales instead, if you can wait. 
Photo credits: MostExerent, SpooPoker, and Pocket Square Guy.
---