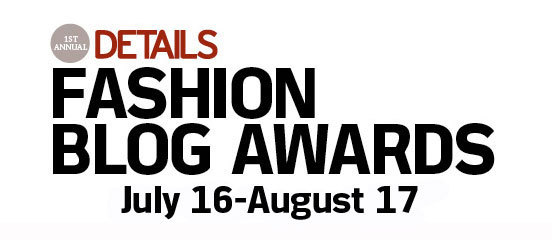 I just received an email from the good people at Details Magazine, informing us that we'd been nominated in the category "Style Curation" in their First Annual Fashion Blog Awards.  We're proud to be nominated alongside many of our favorite blogs (though we'd like to have seen our pals Street Etiquette, A Suitable Wardrobe, An Affordable Wardrobe and Sartorially Inclined get nods, especially considering a few perplexing inclusions like the interior design blog The Selby).  We feel this will be our shining moment: a time for us to rise above the consistent mediocrity we've perpetrated upon the American people, and an opportunity to prove once and for all to the world how amazing we are through the one test more foolproof than any other: internet votes.
The voting period for this thing runs for a month, and voting is incredibly easy.  We considered taking the high road and not shilling for your votes, but then we realized: when have we ever taken the high road?  If we win this thing, we will know, beyond a shadow of a doubt, that we are the best Style Curation Blog in the world!  Can you imagine?  It's like when Casey beat Dan in that internet poll about who was cooler on Sports Night, only we won't even have to get Jeremy to rig it for us! 
So: CLICK HERE AND VOTE!  VOTE!  VOTE! 
---