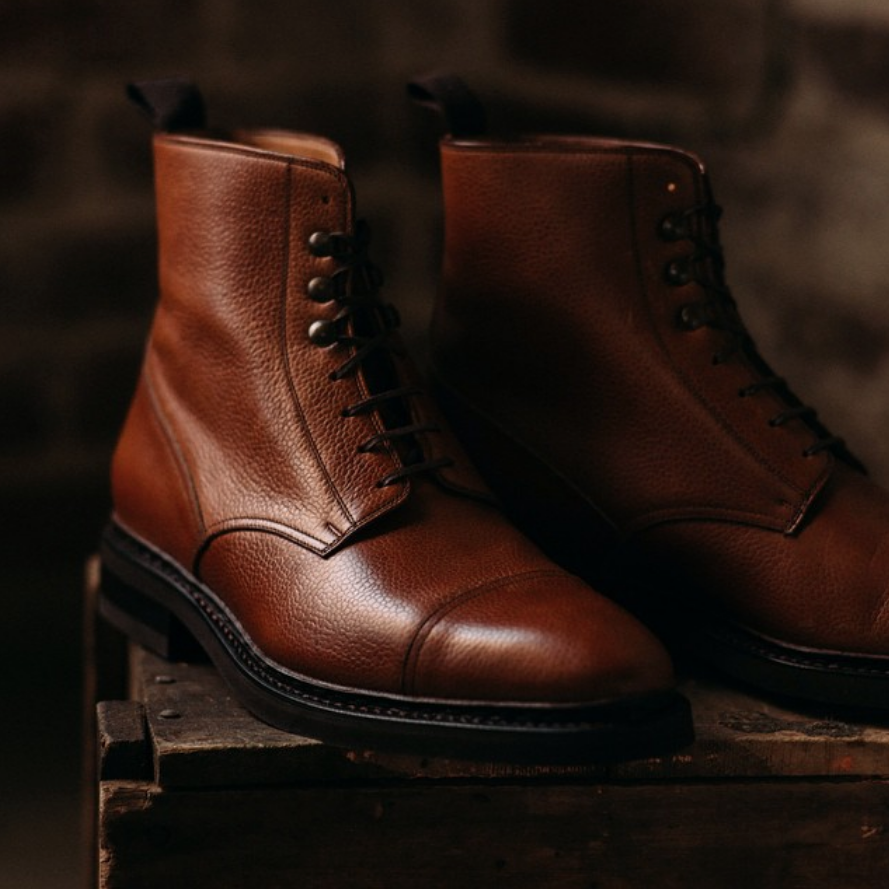 There's never been a better time to buy a pair of shoes, but never a worse time to start a shoe company. Ten years ago, the marketplace for entry-level footwear was dominated by Allen Edmonds and their much-coveted factory-seconds. More resourceful shoppers may have known of European names such as Loake and Yanko, the second of which was a precursor to Carmina, but it took a bit of digging to find those the US. Anything else and you were in the same price territory as Alden and Crockett & Jones – brands that made exceptional footwear, but with price tags that were just as jaw dropping.
The market for that sub-$500 price category in the last ten years, however, has exploded. It's not terribly hard to buy quality footwear nowadays for less than what you'd spend for something made in Northampton. We've reviewed a few names in the past – Meermin, Bow Tie, Carlos Santos, Jack Erwin, and Beckett Simonon. Each is aimed at the more informed, budget-conscious consumer (e.g. ones who know the difference between full-grain leathers and corrected grain). At the same time, each has their own compromise. Meermin's shoes are tough to break-in; Bow Tie and Carlos Santos are hard to find in the US; Jack Erwin, while solid, isn't as nice as what you'd get from more established names; and Beckett Simonon's pre-ordering system involves longer delivery times.
Cobbler Union is the rare exception. They're an Atlanta-based company making shoes in Spain, with models priced around $400. That's more than what you'd pay for the aforementioned brands – double of Meermin – but also the same as what you'd spend for a pair of box-fresh, first-quality Allen Edmonds. The styling, however, is much, much better.
The company recently loaned me a pair of their brown semi-brogues. It's a shapely oxford built on an almond-toe last, with handsome perforations going around for decoration. The uppers are constructed from a conservative museum calf leather – much more conservative than what I've seen from other brands, making them interesting, but also easy to wear. The term "museum calf" refers to a mottled leather with subtle color variegation, giving it a bit of visual depth, as though you were looking at dark wood.
On paper, Cobbler Union's specs are impressive, but not all that unusual. The leathers are always full grain, sourced from well-respected European tanneries, such as du Puy and Charles Stead. The soles are Goodyear welted; the heels made from stacked pieces of leather (rather than ground-up reconstituted leather). The heel and toe stiffeners, which are used to give the shoe structure, are made from an impregnated plastic. Leather would be better, as it can be reshaped if it ever breaks down, but it's hard to find leather stiffeners in anything less than bespoke nowadays. Besides, plastic stiffeners are mostly a non-issue if you use shoehorns, which you definitely should be using.
What sets Cobbler Union apart is simply the design. Daniel Porcelli, one of the company's co-founders, previously worked in the bespoke footwear business with famed shoemaker Norman Vilalta. Cobbler Union's shoes are all ready-made, not custom, but they carry some of the styling and detailing found in higher-end shoes. The soles are channeled, which means a thin flap of leather has been used to cover the bottom, masking the stitching. There's also a fiddleback waist, which you can see above. It's a detail bespoke shoemakers used put onto exhibition footwear, but it's since made its way from the top of the market on down. Rare to see it on at this price point, however.
I'm mostly impressed by the design and general execution. Some of Cobbler Union's shoes lean towards the European side of the spectrum, but there are conservative models in there that would fit into any environment. The lasts look a bit more shapely online than they do in-person (I was admittedly unsure at first, but was impressed when I had them in-hand). I'd compare the semi-brogues they loaned me to John Lobb's 7000 last, which I've always thought was the best last for oxfords. There's also a bit of quilting for the sock (the piece of leather that goes directly under your foot's heel). It's a statement detail, but one I appreciate is mostly for the wearer, rather than others.
The nice thing about Cobbler Union is that, provided you like the style, there's little compromise at this price point. The shoes are readily available in the US with free shipping and returns, which makes trying something hassle-free. The build quality compares well to shoes retailing for double the price; the designs are sleeker than more traditional American names. You'll pay more here than you would at shops such as Jack Erwin, but you're also getting a lot more. Very much worth a look for guys who like European-styled footwear.
* Note, as per our editorial policy, these shoes were returned to the company. We don't take free items. 
---