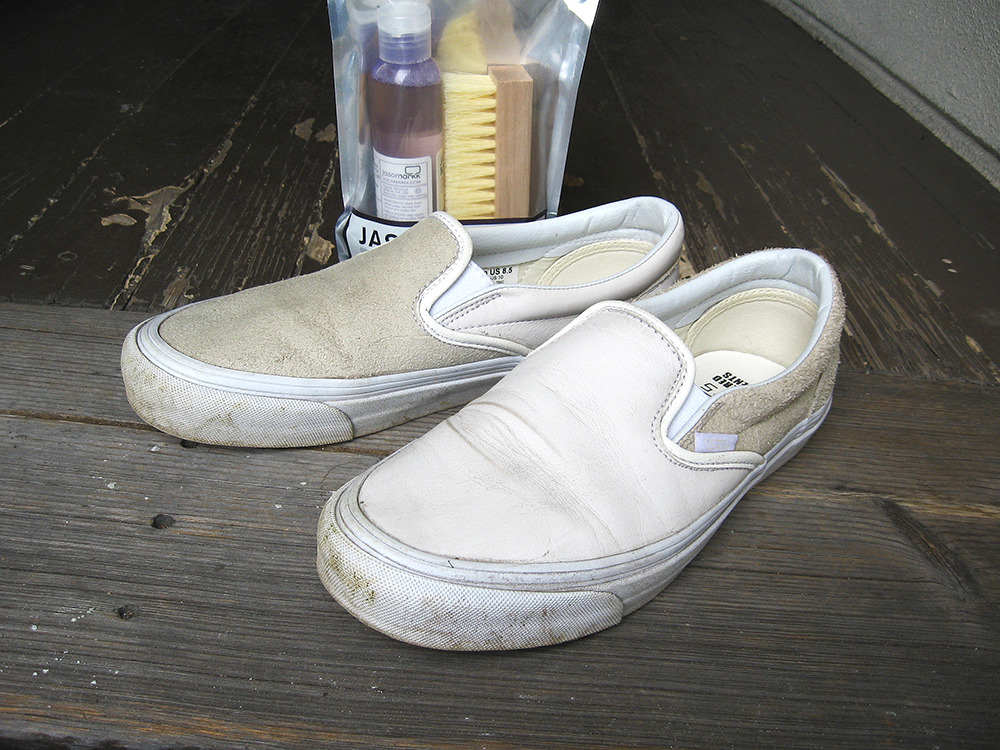 Some things look better new; some things look better old. Anyone who has ever bought a brand new pair of white Supergas, for example, can you tell you how self-conscious one can get when those bright white uppers are shining from your feet like beacons. It really takes about a dozen wears before they get dirty enough to look good. Any of the sneakers sold by Nike, on the other hand, look best when they're box fresh.
At the end of every summer, I clean those sneakers I own that I think could use a cleaning. There are a number of different methods for this. My co-writer Pete, for example, mentioned a technique last year involving Mr. Clean Magic Erasers (which are fantastic for cleaning around the house, by the way). Your local supermarket probably has a generic version of the same thing, if you want to save a little money. Just be warned: as Pete mentioned, these are made from melamine foam, which is a mild abrasive that can take the finish off of your shoes.
This past weekend, I tried Jason Markk's Premium Shoe Cleaner, which is popular among sneakerheads. The kit is simple: there's a 4oz bottle of cleaning solution and a stiff bristle brush. You dip the brush in water, apply the solution, and scrub away. The combination is surprisingly effective, and the solution is said to be safe on any material (leather, suede, nubuck, canvas, etc). It does take a couple of rounds of cleaning to get things back to like-new conditions, however, and I found that a little elbow grease is needed on the textured sides of rubber soles.
The kit runs for about $16-24 at Amazon, Nordstrom, and other locations, and $12 at Jack Threads. The company also has a store in Los Angeles for more involved sneaker restorations. Unfortunately, as of now, they'll only take drop-offs, so you have to be in the local area.
(Pictured above: My Engineered Garments x Vans slip-ons, before and after a cleaning. For more examples of people cleaning with a Jason Markk kit, you can check out videos posted on YouTube)
---