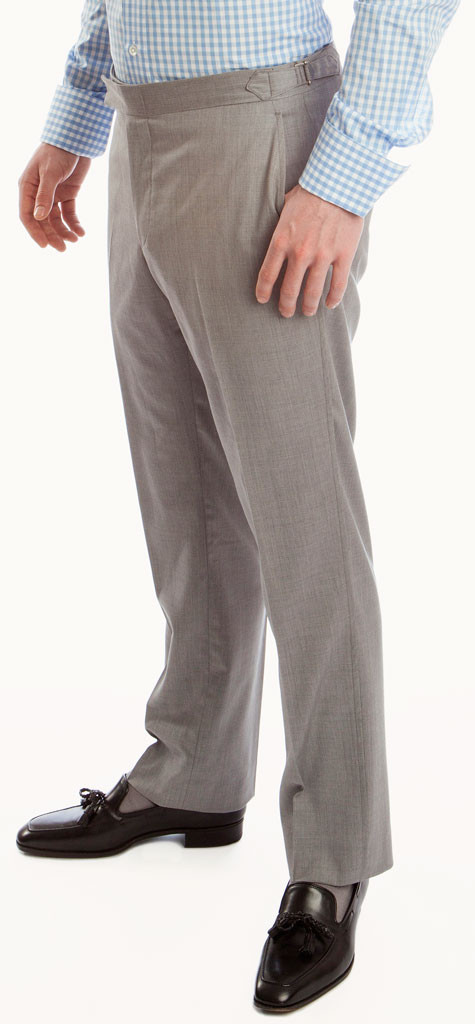 I was recently pretty impressed by a pair of trousers Clay Tompkins sent me on loan. He designed them, but the pattern was made by Tony Rubino, who works with Rocco Ciccarelli at the Primo Factory in Brooklyn (by pattern I don't mean visual pattern, but rather the paper patterns from which each panel of the trouser is cut). Julian Hertling (aka "Julie") then sources all the fabrics and makes up the pants. As people who are either in the business or are die-hard clothing enthusiasts may know, these are some of the best guys in the business and have been at their trade for decades (for those unfamiliar, a quick Google search will yield plenty of articles).
The trousers are cut fairly similar to my Italian-made Howard Younts, who I've long thought to be a very good go-to source for pants. The rise is just slightly higher, the thigh slightly fuller, and the taper slightly stronger. Slight variations, but all in all, very similar.
There are differences in the details, however. Rather than belt loops, there are side adjuster tabs, which is rare to find on ready-to-wear odd trousers ("odd" here meaning trousers that are not part of a suit). There's also an open lapped seam going down the side of the legs, and some signature red stitching on the back pocket loop-tabs. If you don't care for those details, I'm told that your trousers can be made without them (as all of these are essentially made-on-order from Hertling's factory). Ones made with modifications aren't returnable, however, so you should be familiar with the fit before asking for them. Stock makes are subject to a 14-day return policy.
The retail price on these is $250, which isn't cheap, but when Howard Yount's are $195 and Epaulet's range from $195 to $235, they're also not far off from what many style enthusiasts are paying at the moment. The quality of Clay's seems better to me as well (at least compared to my Howard Yount's; I don't have any first hand experience with Epaulet's). The flannels he sent, for example, are much softer and richer in the hand, and the frescos have a very nice, heavy weight to them. A heavier weight fabric, as many people may know, will hang better on the leg. Outside of pants retailing for $400 or more, I haven't seen trousers made with such nice materials. (Note, neither of these models are on the website at the moment, but I'm told they're part of the fall line, which should be up sometime this month). Of the ~$200 retail priced trousers I've seen, these are some of the best in quality, and if one is already paying that much for pants, I think Clay's are worth a look. 
(Photos from Clay Tompkins and The Trad)
---