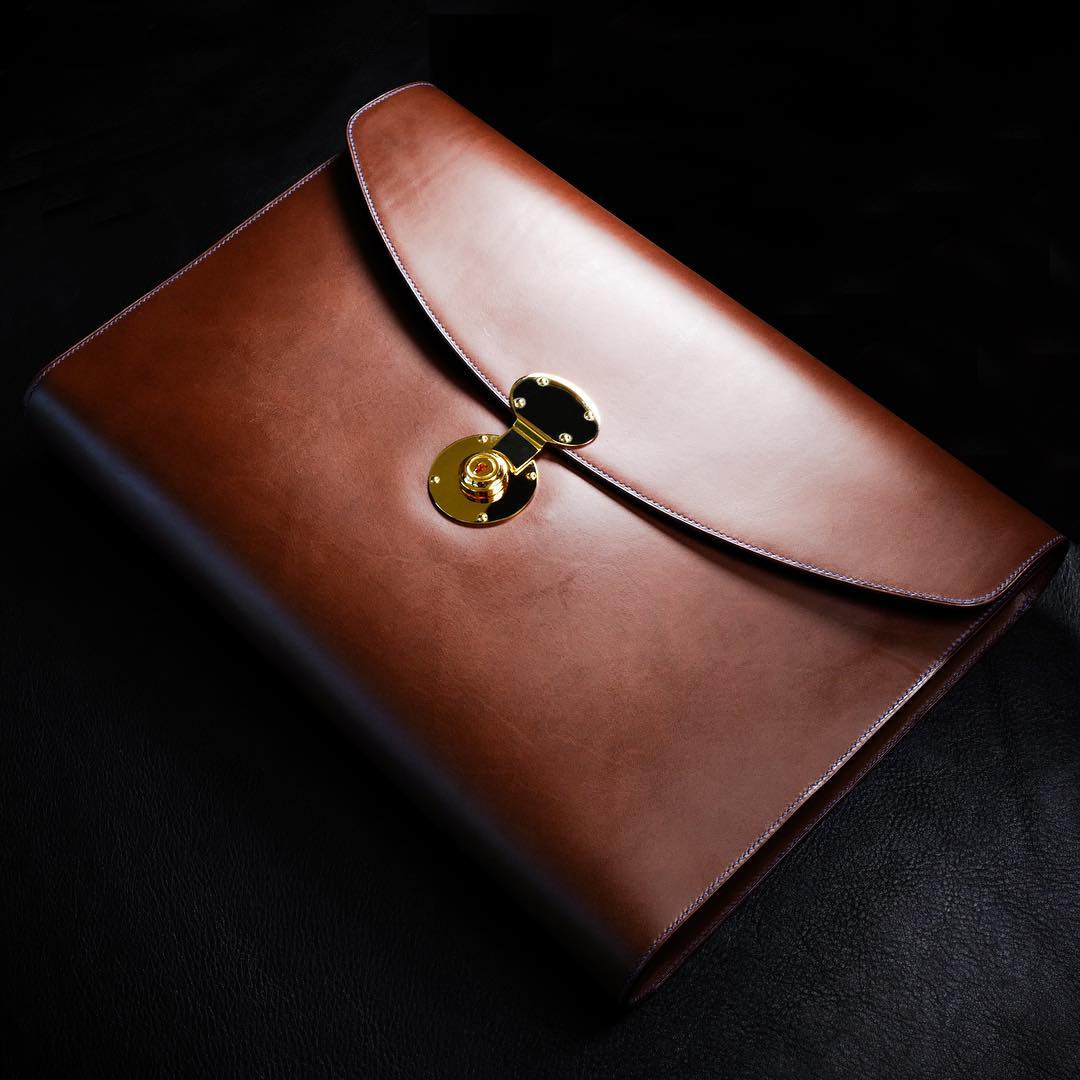 It's easy to get affordable basics from Uniqlo for under $100, and even easier to get fast-fashion takes on the latest trends for less. But while the bottom of the market is spiraling downwards, the cost of luxury goods continues to rise with no end in sight. In recent years, the cost of luxury fashion products has grown at twice the rate of inflation, with men's clothing and accessories leading the way. There was a time when Common Projects Achilles were about $250; today they're north of $400. Even traditional clothiers aren't immune. In 2010, J. Press retailed their Shaggy Dog sweaters for $165. Today? $245.
This bifurcation is just one of the many reasons why I love Chester Mox, a Los Angeles-based leather goods company that I often write about here at Put This On. They're one of the few companies that still offers Old World craftsmanship at reasonably affordable prices. A few years ago, I called a New York City menswear shop about commissioning a custom leather wallet. My quoted price? A whopping $1,500 ("Yea, I admit that's absurd" the salesperson sheepishly admitted to me). Chester Mox's price for the same design ended up being about 75% less, which is lower than what that store pays in wholesale to their European supplier.
For the next week, Chester Mox's prices are little lower still. They're holding their four-year anniversary sale, where you can take 25% off any order with the checkout code ANNIVERSARY. The code excludes bespoke, but since everything they sell is made-to-order, you can get simple customizations such as choosing your own threads and leathers, picking out the colors, and getting a hot-stamped monogram (should you wish). The promotion ends on Tuesday, March 19th.
The thing that makes Chester Mox special is their construction. At the moment, luxury e-tailer Mr. Porter has no fewer than 120 leather wallets at their store — more if you count larger leather goods. Most of those wallets retail for about $350, with some reaching as high as $1,470. For luxury brands such as Dior and Saint Laurent, leather goods are often high-margin items used to make up for the company's loss leaders. Haute couture, for example, is dearly expensive, with dresses selling for tens of thousands of dollars. But given the time and labor needed to create such items, those pieces don't actually make that much in terms of profit (there aren't many customers for such things anyway).
Instead, things such as couture and special runway pieces are typically produced to give the brand a halo — they confer prestige, generate press, and allow devoted fans to dream of one day owning such items. Where the company actually earns their money is in the mountains of expensive, but relatively affordable accessories they move every year — plastic sunglasses, synthetic perfumes, and leather goods. The quality of those leather goods is often fine, but not remarkable. The construction is almost always machine-sewn and the leather, while decent, is commonly corrected grain (e.g. pebble grain, which is a technically a type of corrected leather).
Chester Mox's products are all handmade using traditional tools — an awl, a needle, and some thread. They're produced in Los Angeles, but are often cheaper than designer leather goods. A few years ago, Bellanie apprenticed under a former Hermes craftsperson. There, she learned how to make leather goods using an old European method: saddle stitching, which is what you'd find on most Hermes products. Today, she saddle stitches everything by hand and sources full-grain leathers from top-end tanneries. Among their inventory, they have Horween's lustrous shell cordovan, smooth calfskins from the Hermes' owned Tanneries du Puy, unfinished Barenia leather (which Hermes uses for their bag handles, and will patina in the same way), and some of the best exotics I've seen around.
Technically, saddle stitching results in a stronger seam, which is why you see it in high-end saddlery and European luggage. Whereas a machine-sewn seam can unravel if just one stitch breaks, a saddle-sewn one requires a special tool to pick apart. But, realistically, unless you're stuffing your wallet like George Costanza, I find saddle-sewn products to be more about a look. In the photo above, you can see a tan RRL eyewear case (on the left) compared against a Chester Mox Barenia card case (on the right). The RRL case is machine sewn with a straight stitching pattern, where each line follows the next (like so: ——–). The Chester Mox card case, by contrast, is handsewn with tighter stitching and no visible holes. It also has a slightly slanted stitching pattern (like this: /////). The stitching looks a little better, to my eye, and carries a bit of Old World craft charm. Those card cases start as low as $60, or $45 with the checkout code.
Chester Mox is a small, family-owned business run by a husband-and-wife team (Bellanie and Brandon). Since everything is made upon order, it's easy to switch things out. If you see a leather you like on their Instagram, but don't see it offered for a particular design, just contact them. Some of my favorite things include their Dogleg card cases, alligator belts (get them in a color that matches your shoes), and a modernized coat wallet I designed last year (ideal for use with tailored clothing, I think). Ian at From Squalor to Baller also recently posted photos of how his compact bi-fold has aged over the years.
---