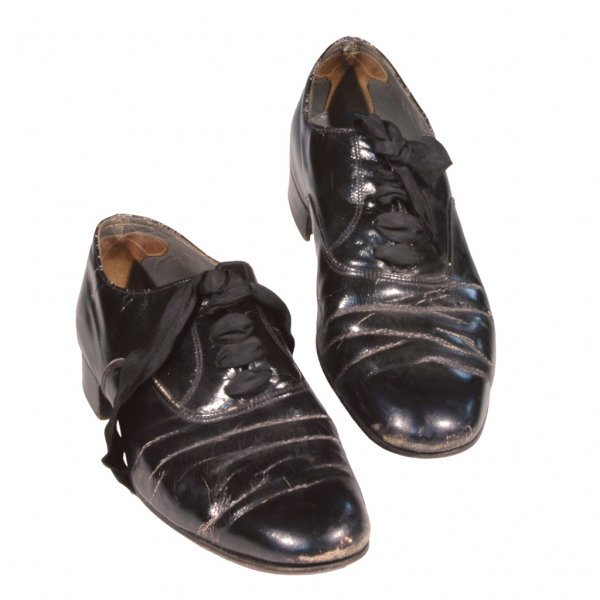 Our Black Tie Guide continues to help you find all the elements of an eveningwear ensemble. Today, we discuss finding the right shoes – at the right price.
Part 3: Formal Footwear
I don't want to introduce hyperbole, but wearing bad shoes can take the sharp look of a tuxedo and throw it in the Dumpster. Few things are as disappointing as seeing a gentleman going to extraordinary lengths to wear a tuxedo to only see he's slipped on a pair of cheap, sport-hybrid, corrected-grain, bicycle-toed "dress shoes". 
Here's some basic guidance on what to look for in formal footwear:
Black calf leather (patent leather optional)
Laced shoes should be balmorals; no blüchers
Plain-toe and cap-toes are acceptable; avoid brouging and wingtips
Opera pumps are an acceptable slip-on; avoid loafers
Some traditionalists would consider opera pumps as the only footwear choice for black tie (Jesse is a fan), but I can sympathize with those of you who have hesitation. Unless you find a way to score a pair cheaply (or you have disposable income), it's probably not a good purchase as you can't really wear it outside of formal events. As someone who only finds an excuse once a year to don black tie, it's probably not practical. 
If you're looking for a pair, Shipton & Heneage has two options for $245. And Brooks Brothers has their pair for around $450.
For most men, you probably will find the black cap-toe oxford to be the most accessible and affordable option. The cap-toe shoe will be versatile in the rest of your wardrobe for when you wear a regular suit, making it a better value purchase. 
The Allen Edmonds Park Avenue frequently turns up on eBay for prices below $150 – if not significantly cheaper. You can sometimes find them new and on sale at around $200, too. A retail budget option would be Charles Tyrwhitt, which has a full-grain cap-toe oxford for around $150. 
If you're able to find it, the plain-toe oxford, in my mind, is a preferred option for footwear. Not so formal that it can't be worn with a regular suit, but the cleaner, sleek look fits better with the tuxedo. You can see Fred Astaire's pair (given as a gift to Dick Clark for his 50th birthday) above. One can only hope they dance in a tuxedo so often that their shoes look so well worn. 
The cheapest plain-toe oxford I can find is also from Charles Tyrwhitt, at around $200 in patent leather. For around $260 you can get patent leather pairs from Herring or Shipton & Heneage. My favorite though has to be from Kent Wang, whose $350 plain-toe balmorals aren't patent leather, letting you wear them with a suit.
If you choose to go the laced shoe route, then you should consider buying a pair of black silk shoelaces, like on Astaire's pair above. I only know of two places you can buy them: from George Cleverley (you'll have to e-mail them) or from A Suitable Wardrobe's online store. The cost is about $40 either way, but they definitely elevate the look of even a simple cap-toe shoe to something much more formal. 
-Kiyoshi
---