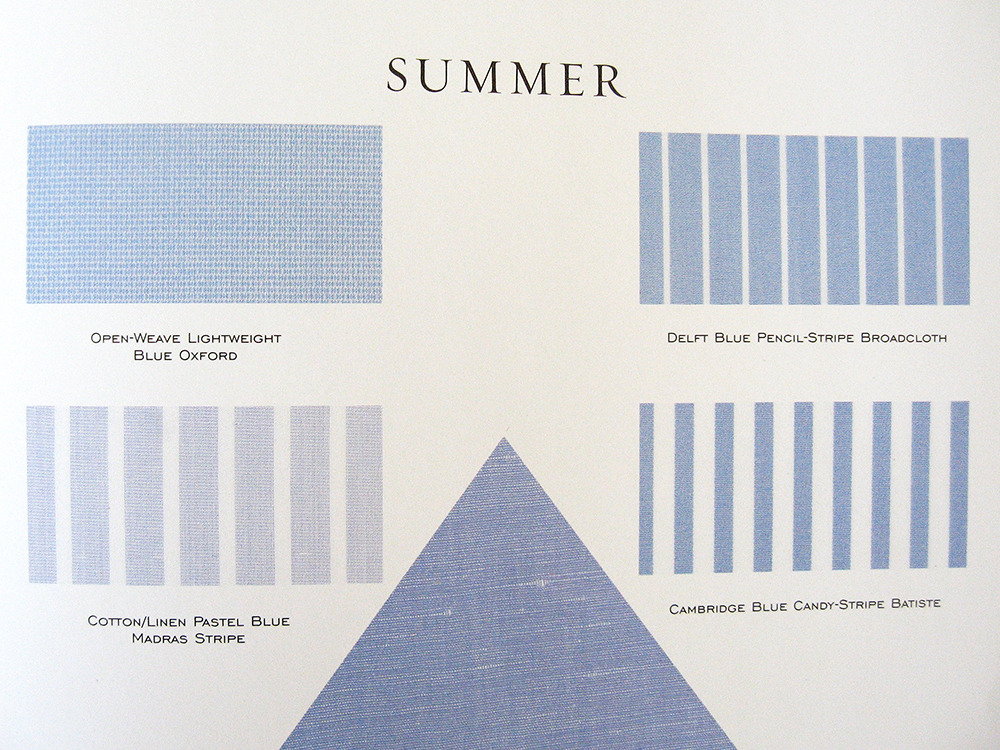 If you want to dress down a tailored jacket, there are few better ways to do it than wearing a casual dress shirt. Things in slightly more textured or patterned materials will be less formal looking than your traditional, solid white and light blue broadcloths, and make you look less like you've just come from the office. In his books Dressing the Man and Clothes & the Man, Alan Flusser has some suggestions that I think are particularly good. A few of them are pictured above. All are unique enough to be casual, but also still unassailably in good taste. 
Some other pointers for picking good, casual dress shirts:
Stripes work year-round, but checks can sometimes be seasonal. Gingham and madras, for example, work better in the warmer months, while tattersalls, graph checks, and tartans look better with the tweeds and corduroys we wear in the cooler seasons.
Although light blue is a staple for many men, don't be afraid of colors such as burgundy and dark green. Just get them in patterns, instead of solid colors.
Forgo the tie, especially if your shirt is particularly casual (e.g. busy patterns or non-traditional fabrics). 
Remember: the bolder the pattern, the more casual the shirt.
Consider less-formal materials. Brushed cotton flannels, chambray, and wool-cotton blends have a visual heft that goes well with tweed jackets. Linen and madras, on the other hand, are good with summer jacketings. 
Small collars can give you a very modern look, but they're more likely to collapse underneath your sport coat when you're not wearing a tie. If you want your collar to stand up, you have two options. The first is to go with a button down collar, which will stand up once you fasten the collar points. The second is to get a semi-spread collar with a tall enough collar band, long enough points, and stiff enough interlining. Be careful to not get something too big or stiff, however. Things can quickly look cheesy. I think our advertiser Ledbury

has a particularly nice collar for wearing casually with sport coats.

 
Shirts with a slightly lowered second button will give you a more attractive neck line when your collar is unbuttoned. Again, our advertiser Ledbury does this well. You can also request it on custom shirts. I use Ascot Chang and think they do a great job. For other options, consider MyTailor, Dege & Skinner, and CEGO (the last of which you have to be in NYC). For online made-to-measure companies, check out Cottonworks and our advertiser Proper Cloth. We have a series on custom shirts that can help you through the process.
You'll rarely go wrong with a solid white or light blue shirt, but if you're trying to dress down a sport coat, consider more casual options. Again, any of the patterns in Alan Flusser's guides above would be a great place to start, so long as you pay attention to the details. 
---