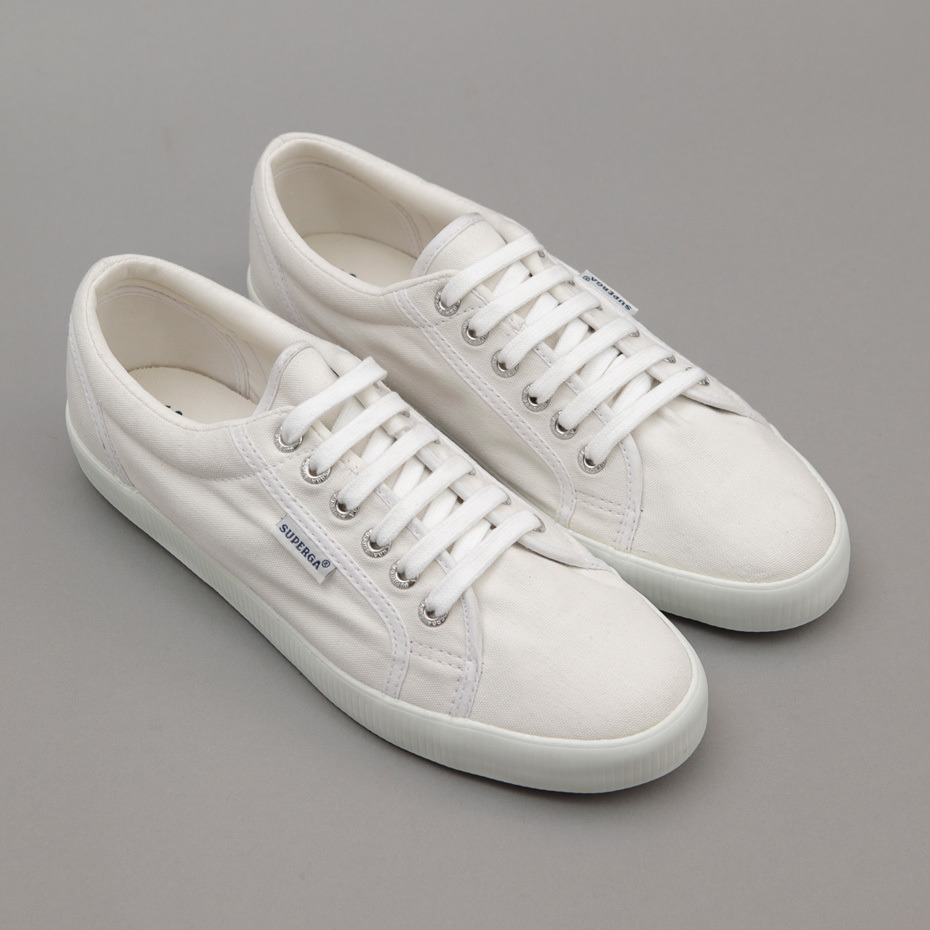 Like most men of my generation, I rarely wear more "formal" clothes such as dark wool suits and black oxford shoes. Much of my wardrobe consists of more casual items, though I admit it leans towards the dressier side of things. That means lots of odd trousers and sport coats, casual button-up shirts, and shoes such as derbys, boots, and slip-ons. With the passing of Memorial Day and the unofficial arrival of summer, I thought I'd review some casual footwear options for the new season. Basically things that will work with what I think most men already have in their closet.
Generally speaking, I think men tend to look smarter in a pair of leather shoes than trainers. The one exception is white sneakers during the summer. For some ensembles, such as a pair of navy chinos and a colorful madras shirt, there may be nothing better. My favorites in this category include Superga, Chuck Taylors' All Stars, and Vans' Authentics, but there are many others. I covered a bunch of them last year in a post about plimsolls. In addition to those, you can consider the Common Projects and German Army Trainers that Jesse has talked about, as well as Svensson's Classic Low Whites, Superga's 1705s, and Superga's decks. Svensson is a bit more refined looking, like Common Projects, but comes at a lower price point and even less branding. Men of Ilk is offering a 20% off discount code right now (GLCCW49), which puts the Svenssons at $180 for American customers. As for the Supergas, I bought a pair of the 1705s a few months ago and have been really enjoying them. The branding is less obvious and the design is basic enough to pair with most things.
For something slightly dressier, you can consider chukka boots. I know boots are a bit of an odd suggestion for summer footwear, but depending on your regional climate, I think they can work quite well. Alden's unlined suede chukka, for example, is so soft and buttery that it wears very much like a slipper. The lack of leather lining inside makes the upper more malleable and breathable, much like a canvas shoe. My friend Stephen at The Simply Refined has said everything I could say about them. For something similar, you can consider Church's Sahara and Allen Edmonds' Amok. The brown version of the Amok is on clearance right now for $125.
If you prefer a bit more structure in your leather chukkas, you should check out Loake's Kempton, Sahara, and Camden. Brooks Brothers also has a suede boot that gets discounted to $130 or so at the end of every season, and there's of course Clark's desert boots that everyone already knows about. If you have a bit more money to spend, I would also recommend A Suitable Wardrobe's crepe sole chukka. I really like the shape of the toe box and think the crepe sole/ suede upper combination helps underscore the casualness of the shoes.
Finally, I'll also suggest you get a pair of loafers this summer. Like with chukkas, these can be worn mostly year round, but feel especially nice for the warmer seasons. There are a good number of styles to consider, but for the purposes of this post, I'll stick with the classic American penny loafer. Inspired by the Norwegian moccasin, the penny loafer was the sine non-qua for the post-war "Ivy Look," and still looks quite sharp today. I recommend getting them from American manufacturers such as Alden, Allen Edmonds, Ralph Lauren, Brooks Brothers, Rancourt, and Oak Street Bootmakers. Bass also has some, though their quality is much lower these days. Outside of American companies, you may also want to look into Markowski, Herring, and Loake, as well as some of the models that Crockett & Jones offers.
Of course, there are dozens of good causal footwear styles, and some may be better suited for warm weather conditions than the ones above (e.g. espadrilles, white bucks, and spectators). However, for good, versatile basics that can work well for summer and transition into fall, I think you'd do well with white sneakers, suede chukkas, and leather penny loafers. 
---