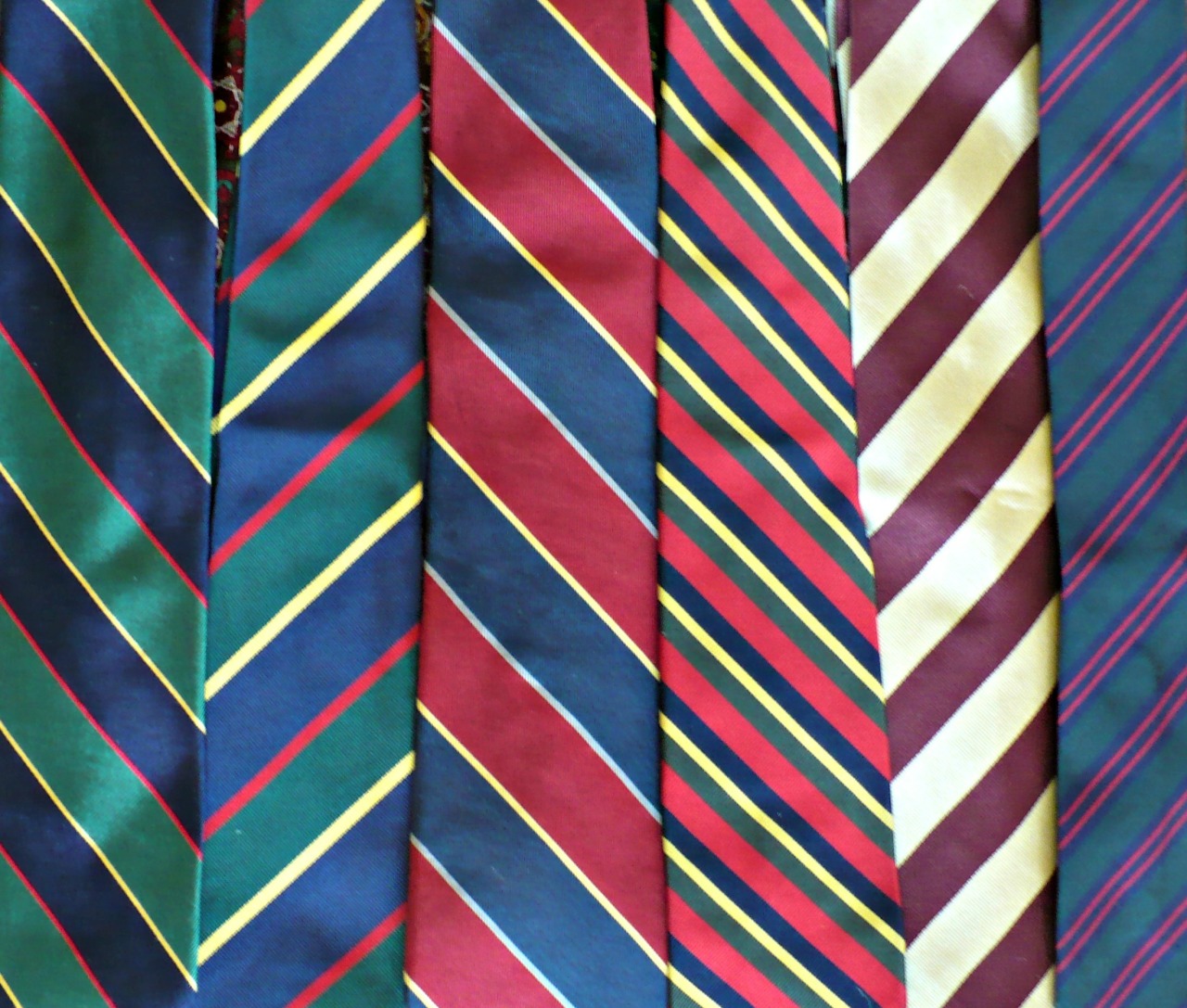 If you want to build a necktie wardrobe for not too much money, there's no better place to start than eBay. At any given time, there are hundreds of silk repps floating around that site, many available for only $10 to $20 a piece. Striped silk repp ties, as I've mentioned, are exceptionally useful because you can wear them with either sport coats or suits, whereas some ties are too casual to wear with one, or too formal to wear with the other.
To find them, just search eBay for well-regarded American brands such as Ben Silver, Brooks Brothers, J. Press, and Paul Stuart. Seaward & Stearn and Atkinsons are also good names to look out for, although they're usually available at lower quantities. E. Marinella and Drake's are undeniably exceptional, but typically sell at much higher prices. Ralph Lauren can also be nice, although he carries such a wide range of lines – each made to different qualities – that it can be hard to find what's well made. If you care to sort through it all, just look for the blue Polo label or the high-end Purple Label.
The only problem with shopping on eBay is that it can be difficult to discern a tie's condition. Most sellers can tell if there's a pull or stain in the silk, but this is hardly the only damage that can occur. If a tie has been sent to the dry cleaners, for example, the silk will have likely lost its luster, and if it's been wrongly ironed, you'll see an impression of the tie's folds pressed into the front blade. The slip stitch that goes up the back spine might also be loose or even broken from improper yanking, and the neck area might be faded or overly worn, making the tie's knot a slightly lighter color than the rest of the body. Worst of all is if the previous owner never let his tie rest after each day's wear, but instead kept it knotted, so that he wouldn't ever have to retie it again. This will ruin the interlining inside, making it difficult for you to ever get a good dimple. It's rare that you'll come across a seller who knows how to look for these kinds of defects.
Still, for $10-15, not much is lost if you get a bad piece, and even if the tie doesn't come in the most perfect condition, this might not be a bad thing. The men who wear silk repp ties best are often wearing pieces that are ten or twenty years old, and their ties have a sort of worn-in quality that makes them more appealing than things that look too new or pristine. Set aside $100 or so and stick to dark colors (e.g. burgundy, forest green, brown, and navy), and you'll have a pretty good starting collection in no time.
(Photo via Oxford Cloth Button Down)
---