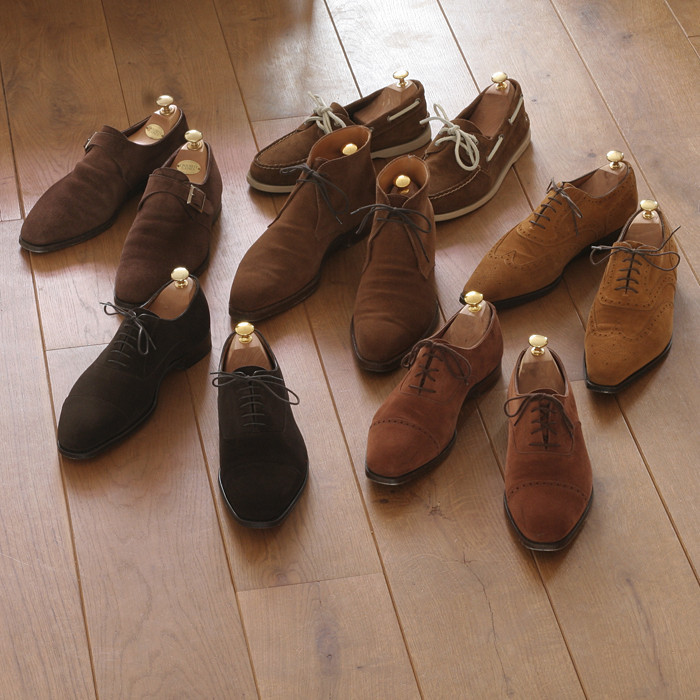 While I think brown suede shoes are great for every season (perhaps except winter), they're particularly fitting for autumn. The soft, warm looking texture fits in well with the season's mood and looks great against the brown corduroys, gray flannel trousers, and olive moleskins that should be in your standard Fall rotation. 
If you don't already have a pair, consider getting something nice for this Fall. If you can afford to splurge, I recommend Crockett & Jones' Belgrave in polo brown calf suede. It's a pretty expensive shoe, but I think one of the most handsome ones you can buy. For something more affordable,  check out this Charles Tyrwhitt suede chukka (which is on sale right now), Loake's suede Eton loafer, and Rancourt's suede camp mocs. For something a bit cheaper than those, there's Florsheim's Haviland longwing. I'm not that crazy about Florsheim, but they're one of the cheapest Goodyear welted shoes on the market. Use the code NewFW11 at checkout and you'll get 10% off as well as free shipping (thanks to The Silentist for the tip). 
Lastly, it's not released yet, but the guys at Run of the Mill are coming out with a suede double monkstrap on a Danite sole. The price will be around $450 and it should be released in a month or so. 
(photo credit: NOBD from StyleForum)
---