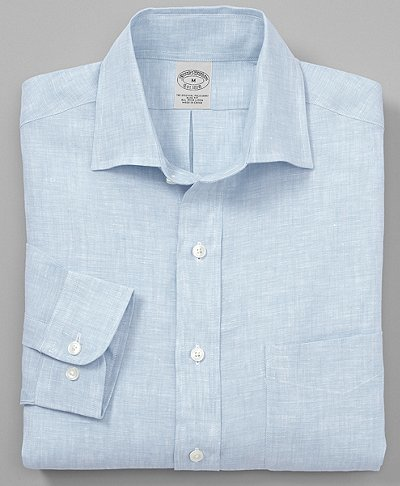 Brooks Brothers "Friends and Family" sale starts in just two weeks, on May 5th. It's unclear what the discounts will be, but you should expect them to range between 25% and 40%. If you open a Brooks Brothers corporate card, you'll also get an additional 15% discount. Thus, there will be some good deals to be had. 
In searching for items for myself, I thought I'd write a bit about some items you might also want to consider. In addition to these linen shirts I covered last week, they also have other summer staples, such as a mariner striped sweater, cotton blazer, and some slim fit chinos. I also really like these glen plaid trousers, their pink OCBD, and this Gregory trench coat. 
I think chukka boots make for great year round wear, but I especially like them in the summer and fall seasons. Brooks has some that are a bit less blobby looking than Clarks desert boots, and I think at steep discount, they're quite a steal. You can get them in calf leather, suede, or canvas. 
Lastly, I recommend taking a look at some of their accessories. This leather watchband is quite handsome, as is their engined-turned tie bar and plaid umbrellas. I also think every man should have an engine turned slide buckle. My father gave me his, and it has his initials engraved on it; it's one of the nicest things you can pass on. They also have some of the best summer belts – a braided, surcingle, and woven-surcingle. I have the braided one and couldn't be happier with it. 
Stop by a Brooks when you have time and see if anything strikes your fancy. If you do find something, ask a sales associate if they'll hold it for you until the sale starts. I've had reasonably good luck with that strategy, and it's a great way to make sure you get the items you want, at a price that's affordable. 
---