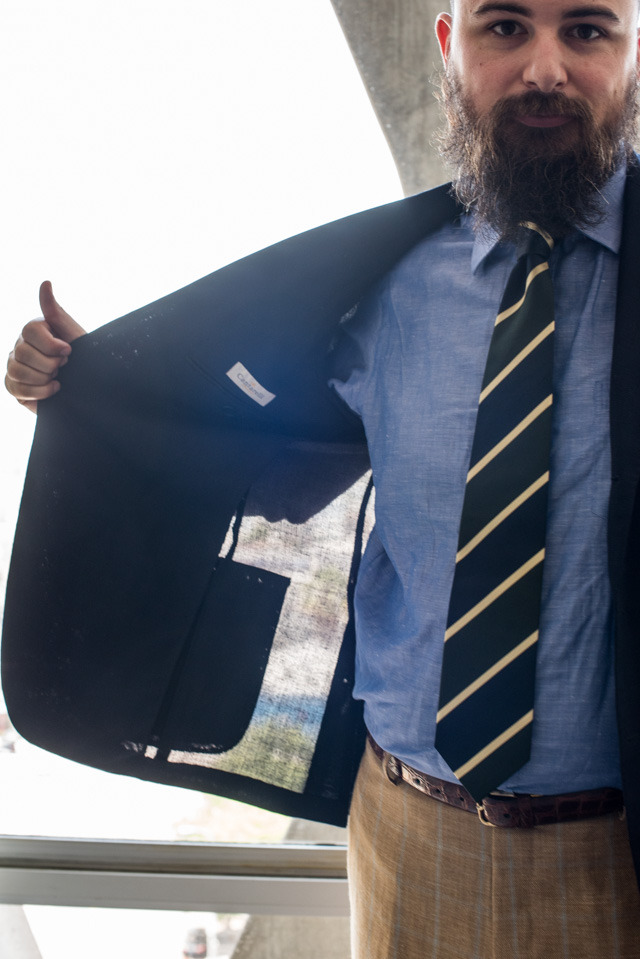 There are a lot of things to look for in a perfect summer jacket – the weight of the material; the fiber in the yarns. A lightweight linen jacket, for example, is often said to be the pinnacle of summer tailoring. Something you can throw-on when temperatures rise above 85 and look like a handsome Italian dude on the Riviera. 
One of the problems I find with linen, however, is that it often needs a tighter weave to hold its shape well. A lightweight, porous linen suit can look really crumpled after an hour's wear. And although that has a sort of carefree, weekend-excursion charm, it's also not for everyone. 
Wool, on the other hand, holds it shape beautifully – even when the weave is gauzy. Which is why, when temperatures are warm, but not scorching, I like to wear heavier linen suits and sport coats (they rumple more than wrinkle). Anything past 85 degrees or so, however, and I reach for tropical wool, a porous weave specifically built for summer. 
When shopping for a suit or sport coat, you can check for the jacket's breathability by holding its back up to the light (where there's no canvassing or padding). If light pours through like you see with Jesse's jacket above, it'll be perfect on a hot day. 
Other ways to increase breathability: get a jacket with a soft construction. With less padding in the shoulders and chest, you'll get a little more airflow. You can also opt for jackets that have little to no lining. However, that's not always possible on the lower-end of the price spectrum, since it involves more finishing work. If you can't find something within your budget, know that a tailor can remove the lining in a jacket for about $50. 
(photo via Articles of Style)
---