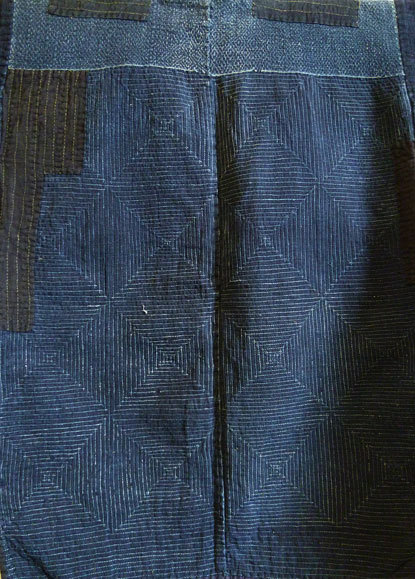 I've become really interested in other forms of textiles lately. Lots of stuff such as Middle Eastern rugs, Navajo weavings, American quilts, and Japanese boro. Boro comes out of Japan's countrysides, where cloth used to be very precious and valuable. Since disposing things wasn't an option, the wives of farmers and fishermen would patch and mend bags, blankets, futon covers, clothes, and even diapers. As a result, you get these beautiful objects with hundreds of shades of indigo, often pieced together with a type of rough running stitch known as sashiko. 
Boro used to be a source of embarrassment for many families, because of its association with poverty, but in more recent times, they've become collectors items. If you're in NYC, you can check some out at Shibui (at least until they move locations in a few weeks) as well as Sri Threads. The second is an appointment-only gallery run by Stephen Szczepanek. You can read an article about him at the New York Times, and check out his wonderful blog, where he posts about the things he's found in Japan. It's hard for me to pick a favorite entry, but this one would be a contender. Notice that the stitching forms an interesting geometric pattern across the whole garment. As Stephen writes, those shapes represent masu – a type of wooden box used to measure rice during Japan's feudal period. 
The price of boro can really range. Sometimes you can find them on eBay for $150-300, but the designs tend to be somewhat simple. Nicer pieces can be found at galleries and speciality auction houses, but in the thousands of dollars. I'm hoping to find a nice, but affordable, piece in the next year, and use it to line the inside of a black leather moto jacket. Fingers crossed. 
(Photos via Sri Threads' blog)
---