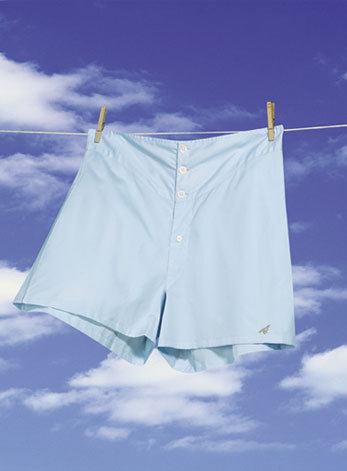 Once in a while, clothing companies will send us something to try out.  This time around, the folks at Birds of Sausalito sent us a couple pairs of their fancy-pants boxer shorts.
I have to admit that I usually buy my underwear at Ross.  When I spot a nice pair of briefs or boxer briefs with a bit of lycra in them, I buy a pile.  Lately I've been into some cotton/lycra/modal blend briefs I bought at Loehman's.  They hold their shape, and the modal (a relatively new synthetic) makes them a bit softer than plain cotton.
Birds' boxers are, at $65 a pair, about 12 times what I usually pay.  The good news, though, is you can see where the money's going.  The fabric feels like incredibly soft cotton shirting, or very fine high quality bedsheets.  They're designed so that they don't have a seam down the center, right where it might bother you or me or LBJ.  The custom fit model (which I tried) have a sized waistband, so only a couple inches of elastic at the very base of your spine. They're also quite beautiful – you can see them above, but what you can't see is how lovely the buttons are (they're natural, not plastic), and how graceful the lines are.
Besides cost, they're boxer shorts, and even the custom fit is a bit loose in the legs for tighter pants.  Of course, that's the very quality that draws regular boxer wearers to boxers, so it may be a positive for you.  Generally, I'd say that if you have the money, one of the best places to spend a little extra is on the fabric that's right next to your junk.  They'd also make a lovely gift, either for the gentleman in your life, or for the lady who likes to wear boxers as loungewear.
(One note: My wife is from Mill Valley, which may lead to some pro-Sausilito bias, particularly in the area of underclothes.)
---