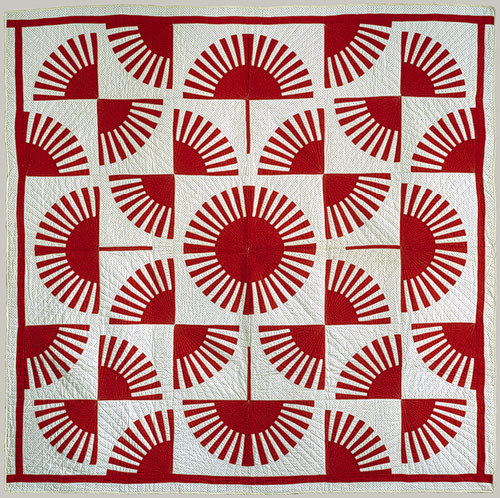 It's not a big jump from appreciating menswear to appreciating textiles, and the greatest of all American textile arts has to be traditional quilts and coverlets. These are partly about function, partly about art, and partly about the stories and communities they represent. 
The Metropolitan Museum of Art has a particularly good slideshow with some beautiful examples of this craft. An excerpt from the accompanying article:
Bed quilts and coverlets, appliquéd, pieced, embroidered, or woven, are some of the few handmade objects that were created by American women to express their artistry and skill. During the eighteenth and nineteenth centuries, women of all social strata made quilts and coverlets. Although many of these were meant to be primarily utilitarian, they were often designed to be pleasing to the eye as well, and sometimes they were imbued with significance far beyond being simple covers for a bed. During the heyday of quiltmaking in the nineteenth century, America's increasingly mobile population was moving westward, settling in the wilderness. Easily portable, and certainly necessary, bedcovers might be some of the few decorative objects a woman had in her home. Bedcovers were often wedding gifts, or made by a young woman to take with her to her future husband's house. If that new home was distant from friends and family, a bedcover became an important keepsake from her old life. Quilts were also made to celebrate the birth of a child, as gifts to thank important members of the community such as the local minister, and even sometimes in the remembrance of the dead.

[…]

Another popular type of bedcovering during the second quarter of the nineteenth century was the woven wool and cotton coverlet. While the earliest of these coverlets could have been woven in the home, professionally woven coverlets were more common by the end of the 1820s. They were made by mostly male weavers who set up shop in rural communities throughout the East Coast and Midwestern states. These independent weavers made coverlets, table coverings, and carpets for the local market. Many were immigrants from the British Isles or Germany, both places with large weaving industries firmly in place by the nineteenth century. 
You can read the rest of the article here at The Metropolitan Museum of Art's website, and check out some more beautiful quilts at the National Museum of American History. The second site is especially nice in that it allows you to zoom in on the pictures, so that you can appreciate the creative use of texture in each of these pieces. 
---