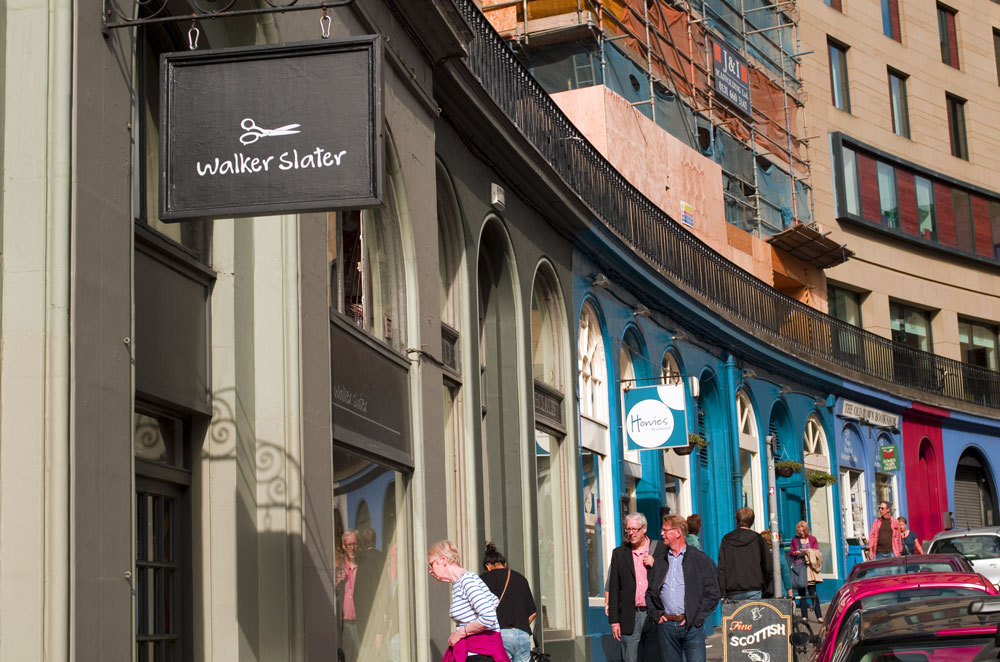 While I was in Edinburgh this past week, performing in the Fringe Festival, I took the opportunity to stop by Walker Slater, the town's premier menswear shop. Endinburgh's a beautiful, gloomy town, hung with fog even at the height of summer, and Walker Slater is perfectly suited for its environment. Inside are warm woolens, worn leather and plenty of tweed.
The shop began in the 1980s featuring more standard fashion fare, but the owners quickly found that despite Edinburgh's status as one of the cultural capitals of Scotland, which itself is the world's capital of tweed, there wasn't much decent tweed to be found. They experimented with tweed trousers, sold them quickly, and within a few years they were off to the races, leaving t-shirts behind in favor of breeks and braces.
The shop offers one of the widest selections of tweeds I've had the chance to see in a clothing store. There are serious, sedate tweed suits and bold, outrageous ones. Something for every occasion. A handsome and dandyish Kenyan man who worked for the United Nations was placing a made-to-measure order when I stopped in. One sportcoat relatively serious, one with a blinding red overcheck. Both looked like they'd come out looking tremendous.
One of the things that impressed me most about Walker Slater was the price point. These weren't Chester Barrie-made supersuits, but the quality was solid, and the prices were quite reasonable. I was lusting after a £125 shirt jacket, and sportcoats ran £390. I also had to remind myself that I lived in Los Angeles to help restrain myself from grabbing a whole stack of their lovely moleskin trousers, including some in ivory white.
I had a bit of a chat with the shop manager, and he told me that the owners really prioritize keeping the retail prices reasonable, which I always appreciate. They're also, of course, selling own-brand merchandise without a middleman. Most trousers and shirts are made in the UK, and most of the tailored clothes are made in a British-owned factory in Portugal.
The shop offers a line of very traditional tweeds, with full-cut trousers and strong shoulders. They also offer a more contemporary style, and both are executed well. I was particularly impressed with their modest collection of casual clothes, which was classic but not at all fusty. Think E. Tautz or Nigel Cabourn. They even have a lovely ladies' shop a few doors down.
It was a real pleasure, amidst the hubbub of the Fringe, to stumble into this home-grown gem. If you're in Edinburgh (or London, where they have another outpost), it's very much worth stopping in.
Walker Slater, 16-20 Victoria St, Edinburgh & 845 Fulham Road, London
(and online at WalkerSlater.com)
(Photos by Jesse Thorn)
---