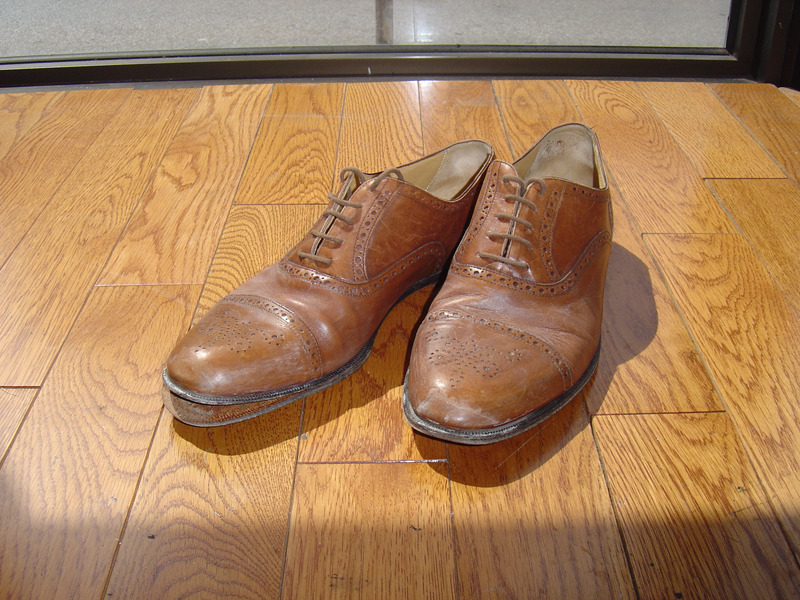 StyleForum has a great thread titled "A Tale of Two Shoes." In it, a member named Demeter shows a pair of Bruno Maglis that he picked up at a thrift store. The things look like garbage. The outsole is peeling away from the shoe, there are salt stains on the leather, and the uppers look like they haven't been cared for even once in their entire life. 
Demeter brought these to a local cobbler to have them repaired, and the results are nothing short of magnificent. Through a series of steps that Demeter documents in the thread, the cobbler turned the pair you see in the top picture to the pair you see on the bottom. It's as though he made them brand new again. 
If you're on a tight budget, you can use the same trick to score a pair of decent, workhorse shoes. Pairs as beat up as those Maglis can be had for as little as $5 at your local Goodwill store or thrift shop. Depending on who you go to for the repair, and what kind of work needs to be done, the recrafting service should run you anywhere between $90 and $150. The key is to just make sure the uppers, liners, and insole are still intact when you buy your shoes. They don't have to be beautiful (as Demeter has demonstrated); they just have to be intact. The shoes should of course also be Goodyear welted or Blake stitched. 
If you happen to pick up a pair of Allen Edmonds of Aldens, the original manufacturer can recraft the shoes for you, as well as reshape the uppers on the original last. You can also take your shoes to B. Nelson or Cobblestone, two of the most frequently recommended shoe repair shops on sites such as Ask Andy and StyleForum. If you'd like to use someone local, try looking up your city on the Shoe Service Institute of America's website. Finding someone shouldn't be difficult, though you may get more expert service from some of the previously mentioned operations. 
To read more about recrafting shoes, check out this thread at Ask Andy. 
---