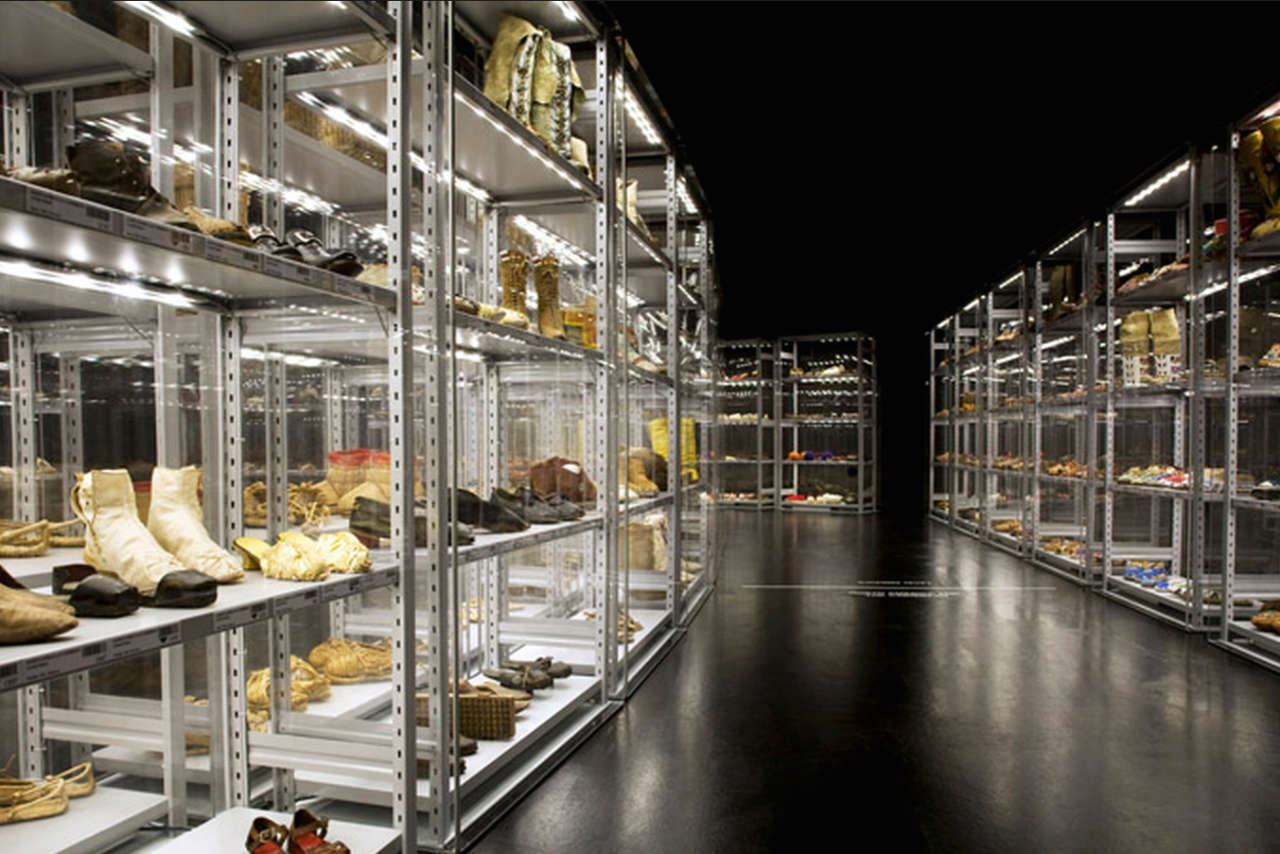 It's believed that humans have been wearing footwear for as long as 40,000 years, which means there's been a lot of time to invent different styles. Just a small percentage of those is housed at Shoes Or No Shoes – a shoe museum located in Belgium, just outside of Brussels. 
SONS has a few exhibits. There's one for shoe art, which blurs the line between functional footwear and abstract art (or, as the museum's name suggests, between shoes and not shoes). There's also an exhibit for unique footwear by contemporary designers such as Christian Louboutin and Manolo Blahnik, and even exhibits for shoe cartoons, poetry, and short stories.
Perhaps the most amazing exhibit of all, however, is their Ethnographic Collection, which consists of over 2,700 pairs of shoes from over 155 countries. The Guinness Book of World Records has confirmed it to be the largest collection of tribal and ethnographical shoes in the world.
In that collection are some truly remarkable pieces. There are "Karara" shoes, made from emu feathers and human hair, which were worn by Australian executioners during the Kurdaitcha ritual. There are also many pairs of magnificent bridal shoes from Afghanistan, Syria, and Turkey, and a number of excellent examples of wooden shoes (including "toe-knob sandals," which were worn by Nepalese women in the mid-20th century). One of my favorites are the spiked shoes you see above, where a leather upper is supported by a wooden sole and long, serrated, iron spikes. Those were apparently worn to help crush chestnuts in early 19th century France (why the spikes had to be that long, I have no idea). 
Readers familiar with avant-garde fashion might also recognize the velvet split-toe slip-ons in the second photo. Known in Japan as tabi, those have been famously replicated by Maison Martin Margiela for their women's lines. The Rosenrot has a post about them here.
Much of the museum's exhibits can be seen on their website (in case you can't make it to Belgium). There's also this YouTube video, which takes you through The Ethnographic Collection. Certainly worth a look if you're interested in shoes (and who reading this website isn't?). 
---