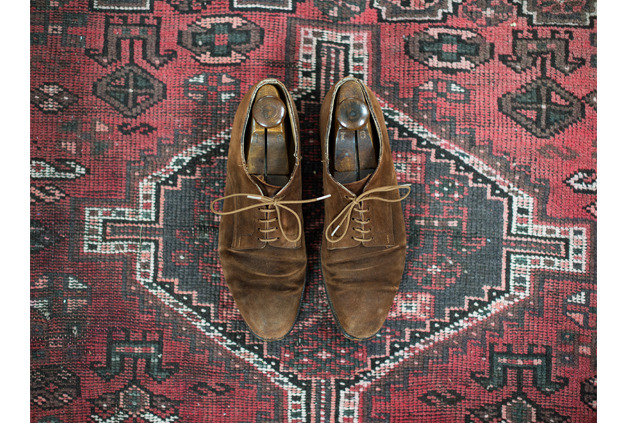 StyleForum member MafooFan – who's famous on that board for not only his good sense of style, but also his ability to cause controversy – has some simple advice on how men can dress better: build smaller wardrobes. To him, the problem for most men is not that they don't have the right clothes (though, there's that), but that when faced with a massive wall of choices, they're apt to picking the wrong things and looking haphazardly put together. Better, he thinks, to thoughtfully and slowly accumulate things that more or less work together, rather than build a massive wardrobe of clothes one doesn't really know how to wear.
It's a nice theory, but not one I've ever bought (can you not buy a theory about not buying?), if only because most well dressed men I know of have big wardrobes. Think of historical dandies such as Evander Berry Wall, style icons such as Noel Coward, and contemporary figures such as Luciano Babera. All had wardrobes that were multiple times bigger than most men's today. I'm not sure any of us could be made to dress more like them if we just limited our choices. Maybe if we adopted one or two personal "uniforms" (like Thom Browne in his signature grey flannel suit), but where's the fun in that?
No, I believe in big wardrobes. Not just because I think clothes are fun and choosing what to wear should be an enjoyable activity, but also because I think to be truly well dressed, you need to have the right clothes for any kind of weather or social occasion. Instead of five suits or sport coats made from a year-round material, it's better to have five suited for spring and summer, and five for fall and winter. Instead of having a wardrobe of just tailored clothing, it's better to have a mix of suits, sport coats, and true-blue casualwear, so that you can be appropriately dressed at the office, dive bars, fancy restaurants, camping trips, holiday parties, sporting games, weddings, etc.
The downside of big wardrobes, however, is that with too many things, nothing gets regular use. And without regular use, it can be difficult to "break-in" clothes so that they look and feel more natural. Think of how much better a tweed jacket looks once the fabric begins to really soften, or how much more handsome an oxford-cloth button-down shirt becomes once the collar starts fraying. It's this kind of "broken-in" look that makes pre-distressed clothes so popular (even when they feel like poor imitations of the real thing). I'm also reminded of this passage Christian Chensvold once wrote on his blog Ivy Style back in 2009:
I've never understood the web's notorious clotheshorses and their compulsive acquiring. Money is not the issue, as some spend lavishly while others are inveterate thrifters. At some point both must reach a stage of surfeit, when it's impossible for every item in their wardrobe to be fondly cherished. It's the difference between having a dog and having a kennel. At some point it's just variety for its own sake, and at that point are your clothes really an extension of you?

And just because an item is already broken in doesn't mean it will automatically feel second nature to wear it. Whether it's an old rep tie or a vintage Harris Tweed, an item new to you is still new, and will take time until you're wholly unaware of wearing it. But before then the item will not feel like a part of you, but a kind of awkward sartorial prosthesis.
On the upside, check out these suede shoes you see above. They were once owned by the famous Douglas Fairbanks Jr., before being sold off to the writer David Coggins in a massive estate auction three years ago. These were made bespoke for Fairbanks by Henry Maxwell, a 250 year-old English shoemaking firm, and presumably earned this condition through a lifetime of wearing, even if the wearings were infrequent. The condition of these shoes makes me think they were as old and familiar to Fairbanks as some of our most beloved pieces. I can imagine them looking excellent – much better than brand new suede shoes – sitting below a pair of grey woolen flannel trousers and a well-worn tweed jacket. 
There's hope for us clotheshorses yet. 
(Picture by Liam Goslett via GQ)
---