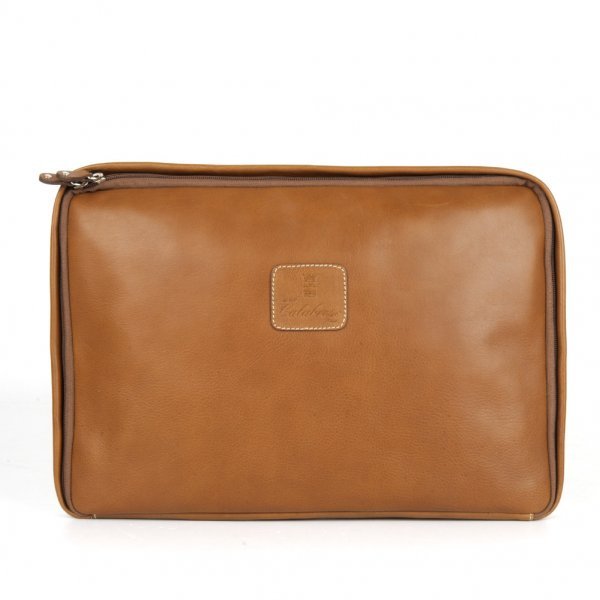 I've been looking for a good laptop case for the last few months. My two briefcases – a Filson 257 and Lotuff English brief – don't have any cushioning on the bottom, so I need something to protect my computer when I set my bag down. Unfortunately, most sleeves are made from either nylon or neoprene, and I prefer more natural looking materials.
Luckily, there are still plenty of good options. On the expensive end, there's Vaja and Want Les Essentiels. Both companies make exceptionally good products and their cases strike me as a bit nicer looking than most. Unfortunately, they're also very pricey, and you might end up with something that won't work with your next laptop purchase. Still, if money were no object for me, I would probably start here.
For slightly more affordable options, there's Calabrese, Carga, and Ally Capellino. Calabrese is an Italian manufacturer of high-end bags with refined and sophisticated designs. Their laptop sleeve comes in a very beautiful tan leather, as well as dark and light canvas materials. Likewise, Carga has a very nice, simple option made from a single piece of vegetable tanned leather, and Ally Capellino's is made from (what seems to be) a tumble-washed canvas. If you're a student, you can take a 12% discount at Ally Capellino, which makes theirs a bit more affordable still. 
There are also some really nice contemporary designs by Scandinavian companies such as Mismo, c.dellstrand, P.A.P. Accessories, and wood wood. For something that has more of a traditional sensibility, consider Saddleback Leathers and Restoration Hardware. Saddleback Leathers is known for making very high-quality leather goods, but I suspect Restoration Hardware is using cheaper materials (though, to be fair, I haven't had a chance to handle it). I also like WM J Mills and La Portegna. Their sleeves have handles, which may be convenient if you plan to carry them on their own.
For non-leather materials, consider Hard Graft and Pack & Smooch. They have some felted wool that look pretty handsome. Additionally, there are coated canvas sleeves from Incase and McManus, as well as a denim sleeve that came out of an Incase and APC collaboration. Perhaps most affordable of all is Wrappers, where you can buy a basic, no frills linen sleeve for about $30.
Finally, should none of these excited you, try searching Etsy. You have to get through a bit of chaff, but if you put in the work, you can find some decent looking designs. Check out Harlex and Byrd & Belle, for example. 
As for me, I'm hoping that Calabrese will make something for 13" laptops soon. I'm pretty set on that tan leather model. 
---