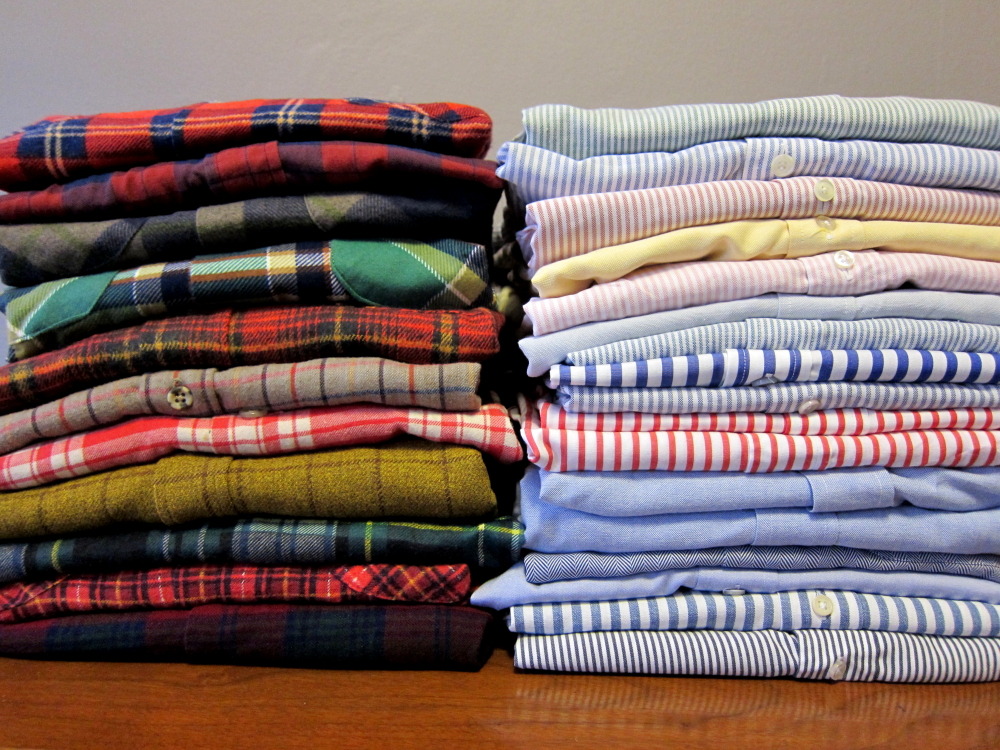 More often than not, if I'm wearing a dress shirt, it's an oxford cloth button down. Plain whites and light blues, along with a few options in stripes, will get you through almost any occasion nowadays. For a slightly dressier look, aim for the same designs in broadcloths and end-on-ends. I prefer those weaves when wearing a tie, although the OCBD-with-a-tie combo is a classic American look.
I also like to have some seasonal options. Breezy linens and colorful madras in the spring/ summer months; then heavier weight fabrics and simple checks in the fall/ winter. Not that you can't do with just the year-rounders mentioned above, but seasonal fabrics are fun to wear. See James Fox above in his tattersall shirt and tweed sport coat, or Clint Eastwood in his tattersall shirt alone (skip the neckerchief unless you're daring).
So here's a complete guide to fall/ winter shirts, along with some recommendable places to pick up things. From tartans to graph checks to denim shirts, we've got you covered if you're looking for something that's a bit more seasonal and casual:
TARTAN:  Most people are familiar with tartans through flannel shirts, but they also come in dressier forms – smoother, lighter weight cottons that are easier to layer underneath a tailored jacket. Traditionally, these colorful plaids have been associated with certain Scottish groups (e.g. clans, estates, or regions), but today they're mostly worn for fashion purposes (much like rep striped ties).
When you first get into the world of tartans, you'll come across terms that, on first glance, don't mean what you think they mean. For example, the terms "ancient" and "modern" have nothing to do with the age of the pattern. Instead, a modern tartan is just your standard design, whereas an ancient tartan will be the same thing, but in lighter colors (often done to give it a more weathered look). See these modern and ancient versions of McRae Hunting for example.
Similarly, a "hunting" tartan just refers to a design that's more based in blues and greens, where as a "dress" tartan will rely more on white. Compare this Hunting Stewart to a Dress Stewart.
All of this is background, of course. The only thing you really need to know is that tartan shirts are just about the most casual dress shirts you can own. Use them to dress down casual suits and sport coats, but keep them away from formal suits (and frankly, ties). Our sponsor Proper Cloth has some excellent tartan cloths for both ready-to-wear and made-to-measure shirts (I use them myself and love their work). You can also find tartan shirts at J. Press, Brooks Brothers, Ledbury, and J. Crew.
TATTERSALL: A slightly dressier alternative to your tartans. The word tattersall comes from the horse blankets used by auctioneers at the Newmarket racecourses in England (which is why it's sometimes capitalized). The designs here are simple – symmetrical, thin-lined checks, often incorporating two or more colors. That can be blue and green against a cream background; brown and burgundy against white. Really any combination, although I find whites and subtle off-whites do better than anything too yellow at the base. Thicker stripes will also naturally look more casual.
Cordings claims it was the first to transfer tattersall checks from horse blankets to shirts. You can still find them there today, although trimmer fits can be had through any number of clothiers – G. Inglese, Ledbury, Proper Cloth, Ralph Lauren, Brooks Brothers, J. Crew, etc. If you're planning to wear this with a tie, keep to bright backgrounds (e.g. white) and thinner stripes. Checks can also look busy when worn, so be careful with pattern coordination (we have a guide here). Simple way to avoid all this: wear solid color ties, such as grenadines or simple wools. Then you'll never have to worry about clashing.
For the simplest version of a tattersall, you can also try graph checks, which are essentially single color stripes against a white ground. Those have a slightly more refined and "citified" look, as opposed to the rustic feel of tattersall.
PUPPYTOOTH: Light blue puppytooth shirts aren't necessarily a winter item, but the pattern – named so because it's a smaller scale version of houndstooth – has always felt better to me when then temperatures drop. Just be careful with the color and scale. In the wrong combination, the shirt can have a dizzying moire effect, especially when paired with certain ties. I like the ones at Michael Spencer, Ledbury, and Brooks Brothers, which almost resolve to a solid from a few feet away. For something with a slightly larger scale pattern, see Charles Tyrwhitt.
VIYELLA: An old trademarked name for a 80/20 blend of long-staple cotton and Australian merino wool. These were popular back in the day because they were less bulky than traditional flannels (i.e. the stuff you'd find at Pendleton), but had the same soft hand and cozy feel. That made them perfect for wearing under tailored sport coats.
Today, plenty of companies offer cotton/ wool blend shirtings, as well as flannel-like shirts that are light enough for layering (I like Portuguese Flannel). Viyella just happens to live on because of its heritage and tradition. The downside: most shirtmakers who use Viyella are kind of stodgy, so it can be hard to get a good fit. I like O'Conenll's oxford cloth button downs, however, and they carry some handsome Viyellas. Might be worth a try.
CHAMOIS: A much more casual fabric, and probably better suited for wearing on its own than under a sport coat. Chamois in its original form refers to a very soft leather, often made from the fleshy, inner side of split sheepskin. If you've ever washed a car, you're probably familiar with the material.
In clothes, however, there's also a cotton shirt fabric that goes by the same name – called so because it's made to imitate the weight and feel of genuine chamois. For the most part, this just feels like a heavily brushed cotton (not animal skin, thankfully). It's soft, cozy, and can either be worn on its own like a shirt jacket, or layered underneath a heavy coat. You can chamois shirts today at LL Bean (the Signature version fits slimmer than mainline) and J. Crew.
DENIM: A favorite for me lately. Denim differs from chambray in that it's a twill weave, not plain, which means subtle, diagonal weaves run across the surface (kind of like what you see on your jeans). For all intents and purposes, it looks very close to chambray, but it feels a bit heavier.
Although most people associate denim shirts with Western wear, they can also go with tailored clothing depending on the shirt's details. See George Wang, owner of the best menswear shop in Beijing, BRIO. Or Rolex expert John Goldberger in Hodinkee's "Talking Watches" (seriously, that video is amazing).
My favorite denim shirt is from Proper Cloth (they're a sponsor here, but I pay full price like any other Joe). They do special runs of made-to-measure shirts that go through enzyme washes, which give their shirts a more broken-in feel. You can also find dressy denim shirts at The Armoury and Ledbury. Best pairing for a denim shirt: definitely tweed.
---