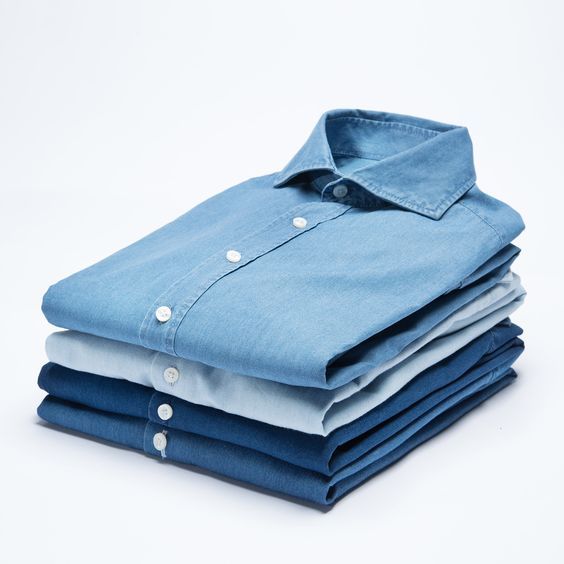 We've written before about how your shirt wardrobe should revolve around basic whites and light blues. And how you can wear white dress shirts in smarter ways. Last week, we also had a post about ecru button-ups, which sit somewhere between these two worlds.
Many times, however, your answer to almost any wardrobe question is: wear a slightly darker blue shirt.
Want to dress down a tailored outfit? Darker blue shirts distinguish themselves from your usual button-ups in that they're more casual. They go great with navy sport coats and gray wool trousers, keeping things relaxed without crossing over into novelty. With a tobacco linen summer suit, they feel appropriately dressed down. In a sturdy material such as denim or chambray, they're also natural accompaniments rustic tweeds and corduroys. Ralph Lauren himself has made wearing a washed denim shirt with tweeds almost a style signature.
Want to wear a light colored sport coat? Most outfits involving sport coats rely on the same formula – dark jacket, light shirt, dark tie, and contrasting trousers. Lighter colored jackets, in this sense, can be a good way to make tailoring look more modern, but you often need something that centers the eye. A darker blue shirt here can be a great way to anchor a non-traditional color combination, visually bringing everything together like a navy necktie. See how Alan from The Armoury and Jack Nicholas are wearing theirs above.
Want something casual, but hate business casual? Mid-blue chambray and denim shirts have been cornerstones of classic American sportswear forever. For a simple, casual look, they can be worn on their own with chinos or jeans in a way that'll look better than your standard poplins or even oxford cloths (pair one with a chunky shawl collar cardigan, like you see below, once the weather turns cold). A dark blue shirt can be worn with lighter blue French chore coats and old blue jeans, creating a tonal outfit. I also like how Visvim designer Hiroki Nakamura wears his above with a white t-shirt and olive field jacket. If you get something in a heavier, thicker material, you can also use it a mid-layer.
Like with anything, getting the right shirt is about the details. Heavier shirts will naturally feel more rugged, making them easier to pair with casualwear. A dressier fabric, on the other hand, might be better suited to tailored clothing than a pea coat. Similarly, cleaner, single-needle seams will look dressier than things that have been put through a wash. Check the seams to see there's any puckering. The more textured and detailed the shirt, the more informal it'll look. Details such as chest pockets, Western yokes, puckered seams, and plackets all push shirts towards the casual end of the spectrum.
That said, don't be afraid of some contrast. I really like Proper Cloth's washed denim shirts precisely because the puckered edges make my sport coats look more casual. In his video feature at Hodiknee, John Goldberger paired a snap button Western shirt with checked tweed jacket (that video is awesome, if you haven't already watched it).
Some options this season: If you know you'll only wear this with tailored clothing, start with slightly dressier options. Something like these finer plain weaves at The Armoury, Ralph Lauren, Wolf vs. Goat, and Drake's will look better with a soft shouldered sport coat than the heavier options at RRL. Similarly, I really like the slubby Japanese fabrics at our advertiser Proper Cloth. They start off kind of scratchy, but they soften with wear (I use mine with light colored, summer sport coats). Michael Spencer also has a nice mid-blue in end-on-end, which is a kind of plain weave with a  subtle cross-hatching of yarns, giving the shirt some visual depth. At the moment, they're having a promotion where you can get a second shirt for $40 off with any full-priced purchase.
Alternatively, you can also go with a pique cotton button-up, which is something like the halfway point between a dress shirt and polo. Our advertiser Twillory calls these their "Friday shirts" given how well they work in casual offices. They have one in a nice mid-shade of blue. So does G. Inglese.
For something more distinctively casual, there's J. Crew, Club Monaco, Freeman's Sporting Club, Ddugoff, and my favorite budget-friendly option, Wrangler. You may also want to check specialty workwear shops such as Unionmade, Standard & Strange, Superdenim, Self Edge, and The Bureau Belfast. Given how much those guys love indigo, they often carry blue shirts in every hue imaginable.
(photos via Suitsupply, The Armoury, Edwin Zee, George Wang, GQ, Voxsartoria, Christopher Fenimore, and Ralph Lauren)
---