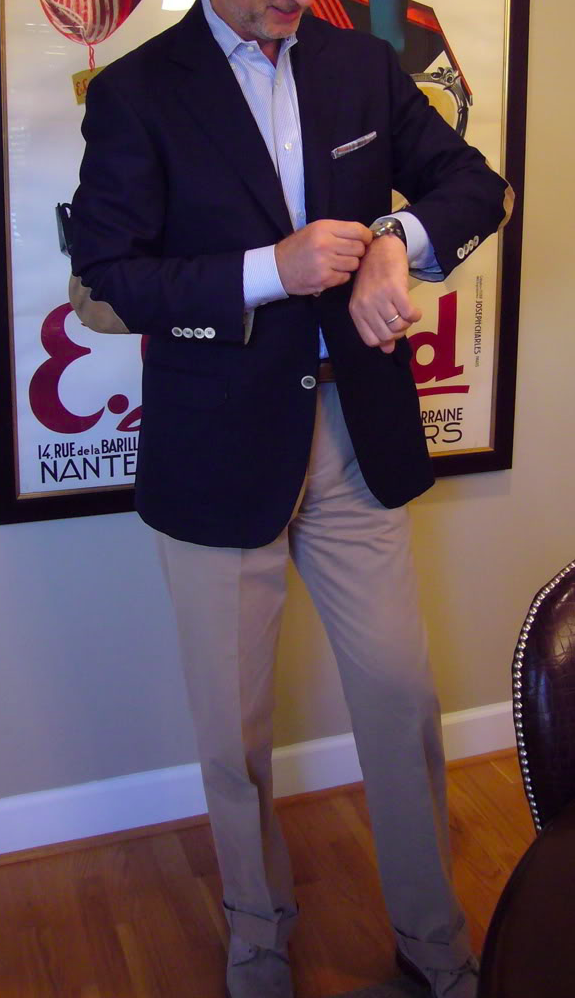 Chinos have a bit of a circutous history. They began as part of the British Army's standard uniform starting around the 1840s. By the end of the 19th century, American troops stationed in the Philippines began wearing them. They remained associated with the military for another hundred years, until 1942, when the US Navy approved that they could be worn off-duty. Since then, they've been incredibly popular with the public. I think the civilian trend largely took off when James Dean began wearing them. That was during a time when much of the public looked towards Hollywood for sartorial direction, and ever since then, the popularity of chinos has been buoyed by big marketing campaigns from companies such as The Gap. 
The great thing about chinos is that, like jeans, they look better with age. In fact, one of the best looks, in my opinion, is a pair of really worn down chinos with a sports coat, oxford cloth button down shirt, and pair of brown loafers. The more worn down and beat up the chinos, the more stylish this look becomes. When the pants are too new, the look can be a bit stiff. As such, I recommend that you wear your chinos with a bit of a rumple and avoid creasing the front of the legs. Creases on chinos add fifteen years to your age and can make you look like the type that irons your underwear. Wear them as casually as you can and invite the fraying that comes. If you want, you can also roll up the the legs a bit, which Gilt Manual recently gave some really good tips for. 
So if you're on the market for chinos, where can you turn? Here are some options. Note that in the interest of sizing information, I've included what I wear for most of these. I'm a size 32 in most pants, but sometimes have to size down depending on the cut. It's probably also worth mentioning that I have an Asian booty that's flatter than a flapjack, so take that into account when gauging whether my reviews will be helpful for you.
J Crew chinos ($60-70): I'm not crazy about most of J Crew's stuff, but I think they're worth talking about since almost everyone has a J Crew store near them. J Crew has a few different models, but I'll only speak of the Urban Slim Fit and Bowery. The Urban Slim Fit doesn't work at all on me, but I could see them fitting well on someone with a lot of junk in the trunk. The Bowery is much better – pretty decent slim fit, even though the construction is clearly more mass market. The price isn't bad, however, especially given how often J Crew holds sales. You could probably snag these for $40 if you waited for the right opportunity. If you do, I recommend sizing down. I wear a 30 in the Bowery. 
RRL Officer Chino ($185): RRL, a Ralph Lauren brand, has has a pair of selvedge twill chinos that wears like selvedge dehim jeans. They're meant to be worn as such, too – wear them hard and don't wash them often. Soon you'll see fades like you would with selvedge jeans (though obviously more subtle because of the fabric). They also have nice details, such as double canvas waistband (which makes them sturdier) and a button fly (which won't give you a weenie tent like zipper flys do). The fit is a lot slimmer, however, than other models you'll read about here. Part of this is just the style, but part of it is also to get the fading you want. The cut is definitely not for everyone, but if you're used to wearing slim selvedge denim jeans, then you might want to consider these. Size down and expect a little stretching (I wear a 31). You can buy them in most Ralph Lauren stores, but if you're not close to one, you can phone an order in. RRL is also going to get a website up sometime next month, I hear. 
Left Field ($198): The nice folks at Left Field sent me a free pair of these to try on. They're a slightly more workwear version of traditional chinos. The belt loops are big enough to accommodate belts meant for jeans; the stitching is slightly more rugged; and the pants have a slight "work pant" feel. Like with most workwear/ heritage brands, the quality here is heavily in the details. There is a chain-stitched waistband, Corozo button fly, and Japanese chambray pocket bags. The fabric for the pants themselves are a ringspun cotton Japanese twill. I could see these working well for someone who has a Americana/ heritage sensibility. I recommend going true-to-size on these, but note that they fit slightly big in the seat, so you should probably have something more than my non-existent Asian booty if you want to wear these well. 
Unis ($228): I know what you're already thinking. $228 for chinos!? Part of the reason why these are so expensive is because they're made in the USA (as Eunice Lee explained to someone in the comments section of Well-Spent). As a political economist, I'll admit, I don't care for these kind of "Made in the USA" appeals. For me, I just care about fit, styling, and quality, and all these counts, Unis' Gio chinos are pretty nice. They're slim without being overly so, have the perfect rise, and feature nice details such as a button fly and Corozo buttons. They have an unwashed version if you need something dressy, as well as a garment dyed rumpled version if you want something casual. I wear a 32 in these, but could also easily do a 30. If money is less of an object for you, I would definitely recommend these. 
Others: There are other highly celebrated chinos. Howard Yount and Albam come to mind, but I don't have any experience with either of them. Incotex and Mabitex are also a favorite for many people, including me, but the fit, styling, and finish on them vary so much that it's not possible to write a generalizable review. You can find them in the Buying and Selling section of Styleforum, eBay, Yoox, and Gilt. A word of warning on those, however – buying them can sometimes be a gamble since they vary so much. Caveat emptor. 
Lastly, for those who might be wondering: what's the difference between chinos and khakis? For pedants, chino is the Spanish word for Chinese. The original material for these pants was a Chinese twill cotton, so they were colloquially called chinos. Khaki is the Hinidi word for "dust." The original chinos, worn by the British Army, were dyed in a mulberry juice that gave it a yellowish drab shade, now known as "khaki." Thus, the correct term for these pants is chinos, and khaki the sandy tan color they most often come in. But that's pedantry; for the most part, the two words are interchangeable.
(photos by pocketsquareguy, The Sartorialist, and J Crew)
---