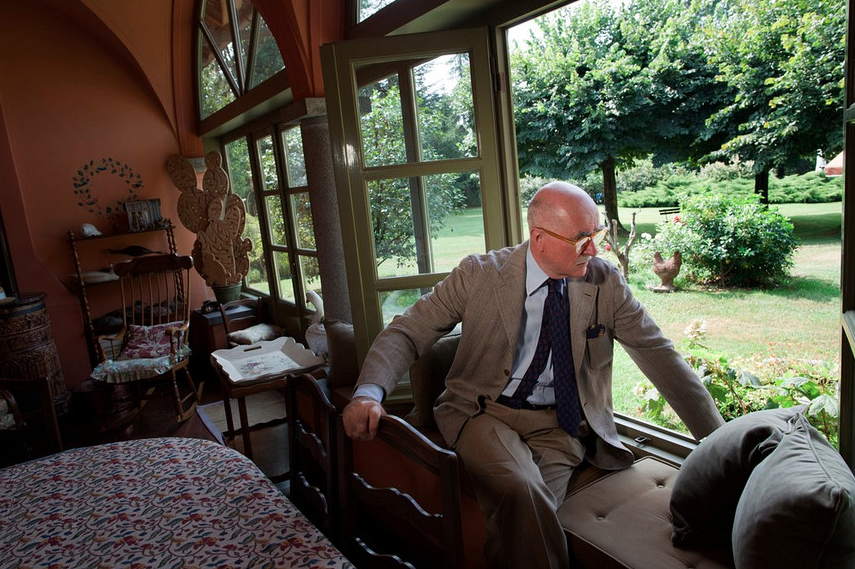 There's no macho way of saying this, but before becoming interested menswear, I was mostly interested in interior design. I moved out of my parents' house in the mid-90s, shortly after graduating high school, and took up residence in Long Beach, California. I didn't have much when I moved into my new apartment – just my bed, book collection, and maybe some knick-knacks. The place needed furnishing though, and I became obsessed with making it as nice and comfortable as possible. This was before the internet was really popular, so much of my obsession involved collecting interior design magazines and books, and relying on those for my ideas.
Looking back, I think the things we understand to make a beautiful home are the same things that make a well-dressed man. To start, a good room should always feel comfortable and lived in. There should be a bit of wear on the rug, shabbiness to woods, and maybe a throw tossed on the couch. Similarly, a place should look well decorated, but not intentionally so. A little bit of messiness and asymmetry aren't bad things; rooms that look like they were lifted out of magazines lack a certain human quality.
I also like homes that say something about the person. Maybe a few family photos are placed on a shelf and something obtained from a trip is displayed on a wall. These have to be authentic, however, and not just part of some design trend (I wonder how many people who bought those subways posters  are now taking them down). They should also not be too excessive. Homes cluttered with bizarre, eccentric collections seem to me just as bad as those that are excessively tidy.
These things aren't too unlike how men should dress. Like that well-worn rug, quality clothes tend to get better with age. Shoes, after years of wear and proper care, can develop a patina much like the richly shaded browns on a mahogany desk, and the faded, frayed edges on a shirt collar can give a man the same sense of comfort as an old afghan throw. 
Additionally, just as a room should always look a bit natural, men should avoid looking too calculated. There's no reason to be bothered if your shirt cuff isn't showing an exact half inch past the jacket's sleeve. At the same time, monk straps intentionally left unbuckled seem to me as contrived as coffee table books stacked at just the right "off" angles. And while a little personal expression needn't be bad, it should also not be overdone. Wearing your father's 1960s wristwatch can say something about you and your family, but festooning yourself with accessories is taking it a step too far.
In the end, the general spirit is always the same. Things should look beautiful, but at the same time, also comfortable, natural, and well lived-in. Most importantly, everything should look like it came together by happenstance. Nobody should ever suspect you put in any effort. Which is why I always leave dirty dishes in the sink when guests come by. I call it my domestic sprezzatura. 
(Pictured above: Luciano Barbera in his Biella, Italy home, which he designed himself. Photo by David Yoder.)
---