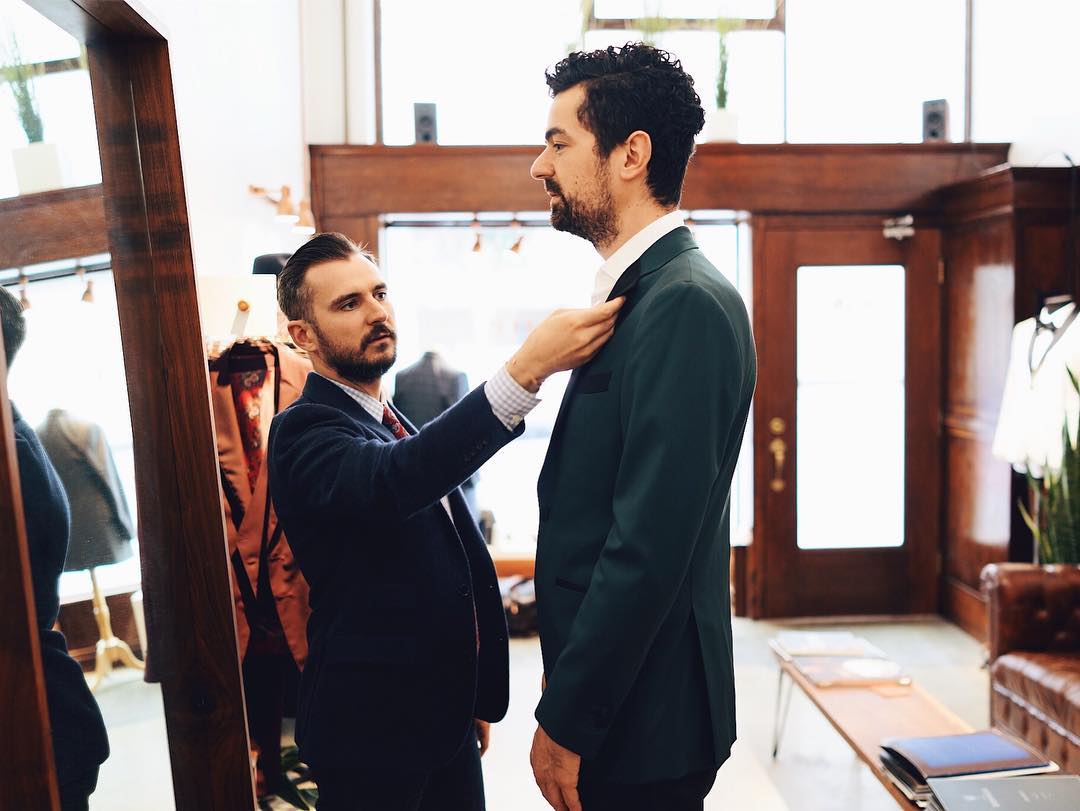 There's a friendly joke on Savile Row between two types of cutters: those who cut jackets and those who cut the accompanying trousers. A suit jacket is a much more complicated garment and serves as the centerpiece of an outfit. It requires multiple layers of haircloth, canvas, and padding, and uses various panels and darting to transform a two-dimensional piece of cloth into a three-dimensional shape. Trousers, on the other hand, are simpler and designed to visually fade into the background. The people who cut jackets, who are called head cutters in the tailoring trade, like to give trouser cutters a hard time. "How difficult can it be to sew four straight lines?," a head cutter once joked with me.
It's all in good fun, of course, because any experienced tailor knows it's quite difficult to make a pair of trousers fit well. Our legs are not poles — they don't just stand straight up and down. Instead, they curve and swing and buckle, even when we're standing still. When it comes to finding good trousers, the key is to get a pair that masks those issues (or, at the very least, doesn't exacerbate them).
Some of my best trousers were bought through Tailors' Keep, a hole-in-the-wall tailoring shop located across the street from San Francisco's world-famous Transamerica Pyramid. They offer every kind of tailoring under the sun — alterations, made-to-measure, and bespoke. Jonathan, the company's cutter, drafts and cuts the paper patterns by hand. Ryan Devens, the shop's owner and founder, does all the fittings.
"Much like how a suit jacket should fit well through the shoulders, a pair of trousers starts with the rise," Devens explains. The rise is the measurement from the crotch seam to the top of the pants — the front rise being the measurement at the front, the back rise is the measurement around the back. Devens continues: "It's not that you can't alter these things. You can, just like you can alter a suit jacket's shoulders, but the process is going to be complicated and thus expensive. Your best bet is to find something that fits well at the rise."
At the most basic level, the rise determines where your waistband sits. As part of the pushback against the low-rise, skinny fit look introduced by Alexander McQueen and Hedi Slimane twenty years ago, higher-rise trousers are have come back into fashion in recent years (we welcome the change). Less appreciated, however, is how the rise affects how trousers hang. Much like how a suit jacket hangs from the shoulders, trousers hang from the waistband — and the rise determines where the waistband rests.
Among the many fit issues that come into his shop, Devens says the most common problems have to do with posture. "Many people stand with their hips forward and knees locked," he says. One poster at the tailoring forum The Cutter and Tailor once suggested this is because most people are sedentary and spend their entire day sitting down. Consequently, they have weaker leg muscles and need to stand with their hips forward and knees locked to balance themselves. If someone stands like this, and the trousers aren't cut for their posture, you'll see excess fabric crumple below the seat and ripple down the back of the thighs.
"It also pushes your body up against the front panel, which creates tightness, and can cause the pockets to pull," Devens explains. "Conversely, someone more athletic may have the opposite problem. They stand with their hips pushed back, which can create tightness at the back of their trousers, at the seat, and fullness in the front, around the crotch."
Depending on a person's posture and their trousers, the solution may be found in shortening the rise. If someone stands with their hips forward and legs locked, shortening the back rise will hike up the pants. And in doing so, you'll clean up the excess fabric (the opposite can be done for an overly long front rise problem). In the photos above, you can see a pair of tan trousers where the back rise is overly long. The excess material drags along the back of the legs. The mid-brown pair of trousers, on the other hand, has a slightly shorter rise, so the waistband — while sitting at the same place on the body — hikes up the back of the trousers, cleaning up the leg line. "When you shorten the rise like this, you have to let out the crotch by about the same amount, so that the crotch seam drops down and doesn't give the person a wedgie," says Devens. "Letting out the crotch independently can also be a way to give someone a higher rise."
Similarly, the olive chinos on the third row have a long back rise, so excess fabric folds up beneath the seat. Once the back rise has been shortened, however, and the crotch dropped and seat narrowed, the back of the trousers look a lot cleaner. The fit looks much more flattering and goes better with a tailored jacket.
Like a balance scale, the right pair of trousers should drape according to all of your postural issues. Someone could stand knock-kneed or bow-legged, they may have one hip bone higher than another, or they may naturally stand with their legs closer or further apart. Not uncommonly, they may have these issues on different sides of their body.
"I snowboarded for about ten years," says Devens. "So my front foot on the snowboard was angled outward. After so many years, when I stand naturally now, my left leg is bowed, but my right leg is not. When we do something as simple as tapering the legs from the knee down, we still have to look at how the person stands, so we know where to take out the extra cloth. Otherwise, the leg opening won't hang centered — it'll either cling to the person's heel or the top of their foot, and then float away on the other side."
In the last few years, I've used Tailors' Keep for alterations and their in-house bespoke tailoring service, through which I've had three pairs of trousers made. I've found their cut to be more stylish than my English-made trousers, and hang better than my Italian-made pants. Their head cutter Jonathan is incredible — a rare gem in the US, where custom tailoring is a dying trade. Ryan, similarly, has extensive experience fitting clients and is committed to getting things right. In the photos above, you can see some examples of the work they've done for my friend Pete, who first introduced me to the shop years ago. The two photos of the grey trousers on the second row show the before-and-after transformation on a pair Pete had altered. The other photos show some finished alterations and some bespoke work on other pants.
I've also become more keen on my specific fit issues. I work a desk job, so like many men, I stand with my hips forward and knees locked. I also have narrow hips and stand with my feet close together (in other words, like a sleepy cow, it's easy to tip me over). To take out the fullness that's often around my hips, Ryan tapers my legs from the outseam, rather than inseam. I also usually need trousers with a slightly short back rise to accommodate for my flat seat and hips-forward posture.
To get better fitting trousers, become acquainted with your fit issues. Do you stand with your hips forward and knees locked? Or with your knees slightly bent and hips pushed back? Are you knock-kneed or bow-legged? Do you stand with your legs closer together or apart?
Next, pay attention to how your trousers fit. Hip pockets should stay flat against your body — if they bow outwards, something is likely too tight. Pleats should stay closed, and the fly-band should lay straight. Importantly, the leg line should be clean and free from any puckering, pulling, or folding. That said, be reasonable. Pants are made from fabric and fabric will move depending on how you stand, but the goal should be to get as clean as a fit as possible. If you can, look at how your trousers drape underneath the seat by using a three-way mirror. It can be hard to see at how the back of your pants fit otherwise. We have two other posts on how trousers should fit.
Thirdly, find a good local alterations tailor and leave everything up to him or her. No amount of micromanaging will turn a bad tailor into a good one, and if you've found a good tailor, you don't need to micromanage that person anyway. It helps to know your fit issues, but let the person do their work. Express what you want, but don't tell them how to do their job.
Trouser Buying Tips from Tailors' Keep
The best way to buy better trousers is to simply develop an eye for what looks good on you. Again: aim for a clean fit, meaning trousers that don't pucker, pull, or fold. Then find a good alterations tailor. We have various guides to alterations, if you need, including how to find a good tailor, a general guide to alterations, and an overview on how much things can be altered.
Devens gives us some additional tips for how to buy better pants:
Err on the Side of Caution: "When in doubt, buy something that's slightly too big, rather than slightly too small. It's easier to take things in, rather than let things out."
Waist Adjustments: "Assuming there's enough cloth inside, you can usually let out the waist by about two inches. As far as taking in the waist, it depends on your body shape — you don't want to warp how the trousers look, throwing off their visual balance. Sometimes, if you take in a lot from the waist, you also have to alter the seat, which can throw off the placement of the pockets. Generally speaking, however, you can take in the waist by about two inches. Whether you can take in more will depend on a case-to-case basis. It's hard to take in more than two inches on a pair of jeans' waistband because of how they're constructed."
Know Your Fit Issues: "Everything comes down to a person's particular fit issues. Some people fit really well into Uniqlo or J. Crew trousers. Some people need made-to-measure. Some people need bespoke. The first step is to know your fit issues and find what works for you. If you go made-to-measure or bespoke, know that different shops offer different types of services. Some made-to-measure tailoring services only allow the fitter to adjust the waist, rise, inseam, and leg opening. Some allow the fitter to adjust the front and back rise independently. Some allow for asymmetrical adjustments. Know your fit issues and what you need."
On Quality: "Higher-end pants are typically made with more seam allowances, which is how much extra fabric the manufacturer left inside at the seams. The more seam allowance, the more you're able to do with alterations. With lower-end, mass-manufactured pants, however, shaving even 1/16th of an inch from the seam allowance will save you a ton of money when you're making so many pants. People's posture and weight can change over time, so having more seam allowance will allow you to alter things more now and potentially in the future when you need. Certain high-end trousers, such as Rota from No Man Walks Alone, just fit so many more people better, for some reason. I often see those and they need very little alteration."
What to Look For: "The waist can be taken in or let out pretty easily. It's also pretty common to taper the legs from the knee down. The most important aspect of fit, when you're buying straight off the rack, is the rise. Altering that can be expensive. We charge $85 for lowering the front and back rise, and a little less if you're altering just one side. Then if you need to lower the crotch, it's an additional $35. So, not a ton of money, but it may feel like a lot depending on how much you paid for the pants. Also, when shopping, check inside the trousers for seam allowances. It's good if there's an inch inside at the seat."
For more on Tailors' Keep and alterations, check out Pete's article at StyleForum on the heavy reconstructive surgery that can be done to tailored jackets.
---