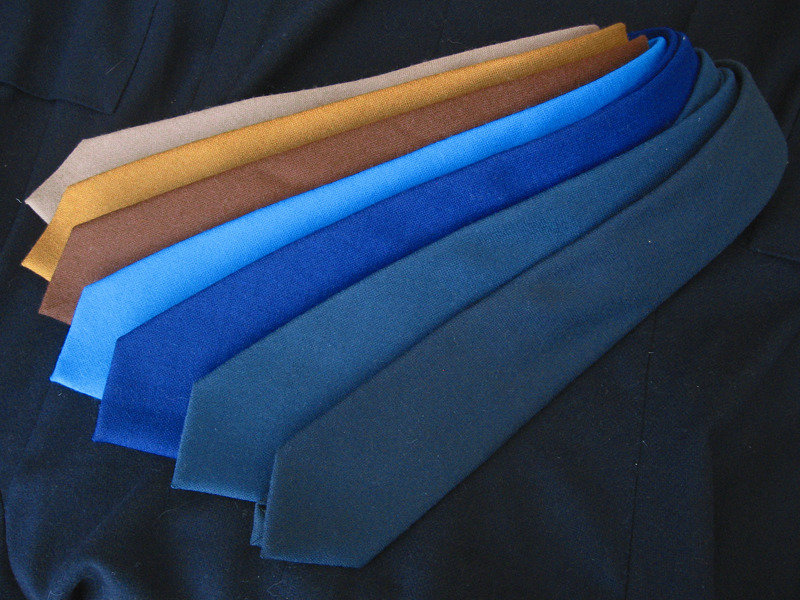 I'd like to meet Paul Winston someday. As regular readers know, Paul runs the traditional clothiers business Chipp2/ Winston Tailors out of midtown Manhattan, and his father – Sidney Winston – was one of President Kennedy's tailors. I've talked with Paul a few times over the phone and he always comes off as an incredibly charming man with lots of great stories (which he tells in his slight New Yorker accent). Last time we spoke, I asked him why doesn't he charge more for his grenadines. They're handmade in the US and use the same fabric as everyone else, but are currently cheaper than grenadines machine stitched in East Asia. Paul told me that it's because he's old enough to remember what prices used to be like back in the day, and can't bring himself to charge more, even if people will pay. I'd normally think that was some slick marketing line, but when you talk to Paul, you easily get the sense that he's a real deal, sincere guy, and I believe him.
In any case, Paul recently got a bunch of lambswool ties in. Since he runs a custom clothier business, he has some lambswool left over from jackets he's made, so he decided to turn them into ties and sell them at a cheap price. There are seventeen colors, all solid, which make them a good complement to patterned shirts and jackets. Each tie measures 58.25" long and 3.25" in width, and costs $35 (shipping for up to three ties is $7.50 within the US, and $13.50 for international). Unlike his grenadines, these are machine stitched, but still made in New York. The interlinings are a wool/ poly blend, and a bit thicker than what seems to be the trend in high-end neckwear these days, but I knotted a few of them up and they still seemed great. With a little bit of tugging on each side of the loop, as demonstrate here by Bernhard Roetzel, you can get the knot pretty small. For $35, I think they're a pretty good buy. Good enough that I purchased one for myself before sending the lot back.
I snapped a few photos, but for some reason, the colors didn't come out terribly well the group shots. In the top most photo, moving from top to bottom we have: tan, gold, toast, sky blue, light blue, navy, and black. The "black" should really be the same color as my navy sport coat, which the ties are laying on top of. It's really more of a midnight navy, not true black, in my opinion. The tie labeled navy (second from the bottom) is perhaps one shade lighter than a midnight navy. The colors are better represented in the close-up pictures, though navy and black are still lighter in the photos than they are in real life.
In the second group shot, again moving from top to bottom, we have: grey, light grey, pumpkin, mauve, coral, purple, light plum, and lilac. Again, the colors are better represented in the close up photos.
Tan and sky blue are already sold out, and two colors not pictured here are chocolate brown and royal blue. Customers can request swatches if they'd like to get a better sense of the fabrics' textures and colors. And if you purchase something and don't like it, Paul is happy to take returns. 
To order, you can just go to Chipp2's website and buy one of their dog ties, then in the comment section, say something like "I don't want a dog tie, I want a …." Or you can call Paul directly at (212) 687-0850. Unlike his grenadines, which will always be available, this is a limited run only. The quantities are quite uneven, and some colors only have six or less in stock. Once they're gone, they're gone. 
---